>
>
>

Mexi' Shrimp Salad Wrap
HG's Hottest Recipes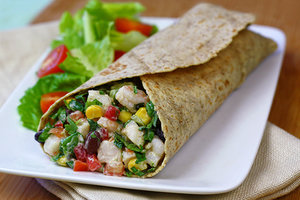 Mexi' Shrimp Salad Wrap
Entire recipe:
277 calories
, 4g total fat (1g sat fat),
730mg sodium
,
40g carbs
,
8g fiber
,
6.5g sugars
,
27g protein
PointsPlus
® value 7*
SmartPoints
® value 6*
Ingredients
2 tbsp. fat-free sour cream
1/2 tbsp. fresh lime juice
1/8 tsp. ground cumin
2 dashes chili powder, or more to taste
3 oz. cooked and chopped shrimp
1/2 cup finely chopped romaine lettuce
3 tbsp. fresh salsa or pico de gallo
2 tbsp. canned black beans, drained and rinsed
2 tbsp. frozen corn kernels, thawed
2 tbsp. chopped fresh cilantro
1 medium-large high-fiber flour tortilla with 110 calories or less
Optional: salt
Directions
In a large bowl, mix sour cream, lime juice, cumin, chili powder and, if you like, a dash of salt. Stir in all remaining ingredients except tortilla.

Spoon mixture across the center of the tortilla. Wrap tortilla up by first folding one side in (to keep filling from escaping), and then tightly rolling it up from the bottom. Enjoy!
MAKES 1 SERVING
*The PointsPlus® and SmartPoints® values for these products and/or recipes were calculated by Hungry Girl and are not an endorsement or approval of the product, recipe or its manufacturer or developer by Weight Watchers International, Inc., the owner of the PointsPlus® registered trademark and SmartPoints® registered trademark.

SmartPoints® value not what you expected? Click here for more info on how the values are calculated, plus more FAQs about PointsPlus® and SmartPoints® values on our website.