>
>
>

Pizza-Stuffed Mushrooms
HG's Hottest Recipes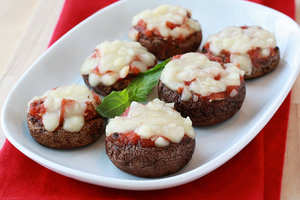 Pizza-Stuffed Mushrooms
Entire recipe (6 stuffed mushrooms):
87 calories
, 3g total fat (2g sat fat),
229mg sodium
,
7g carbs
,
1g fiber
,
3.5g sugars
,
9.5g protein
PointsPlus
® value 2*
SmartPoints
® value 1*
Ingredients
6 medium baby bella mushrooms (each about 2 inches wide), stems removed and reserved
2 tbsp. canned crushed tomatoes
1 piece Mini Babybel Light cheese, finely chopped
Seasonings: garlic powder, dried basil, onion powder
Directions
Preheat oven to 375 degrees. Spray a baking sheet with nonstick spray.

Place mushroom caps on the sheet, rounded sides down. Bake until tender, 8 - 10 minutes. Leave oven on.

Meanwhile, in a small bowl, generously season crushed tomatoes. Finely chop half of the mushroom stems (save the rest for another use or discard), and stir into tomatoes.

Blot away excess moisture from mushroom caps. Evenly distribute sauce mixture among the mushroom caps, and sprinkle with finely chopped cheese. Bake until sauce is hot and cheese has melted, about 3 minutes.
MAKES 1 SERVING
*The PointsPlus® and SmartPoints® values for these products and/or recipes were calculated by Hungry Girl and are not an endorsement or approval of the product, recipe or its manufacturer or developer by Weight Watchers International, Inc., the owner of the PointsPlus® registered trademark and SmartPoints® registered trademark.

SmartPoints® value not what you expected? Click here for more info on how the values are calculated, plus more FAQs about PointsPlus® and SmartPoints® values on our website.