>
>
>

Three-Cheese Grilled Cheese
HG's Hottest Recipes
Three-Cheese Grilled Cheese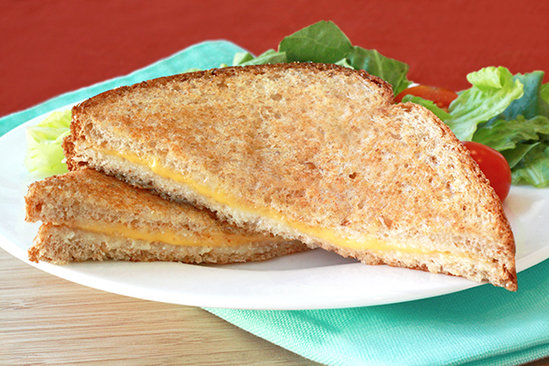 Entire recipe:
240 calories
, 10.5g total fat (4.5g sat fat),
886mg sodium
,
24g carbs
,
5g fiber
,
4.5g sugars
,
13g protein
PointsPlus
® value 6*
SmartPoints
® value 8*
Directions
In a small bowl, mix cheese wedge with Parm-style topping until uniform.

Lay bread slices flat, and spread both with cheese wedge mixture. Top one slice with American cheese, and top with the other bread slice, cheesy side down. Spread the top of the sandwich with 1 tsp. butter, and sprinkle with a dash of garlic powder.

Bring a skillet sprayed with nonstick spray to medium heat. Place sandwich in the skillet, buttered side down. Spread the top with remaining 1 tsp. butter and sprinkle with remaining dash of garlic powder.

Cook until bread is lightly browned and cheese has melted, about 2 minutes per side.
MAKES 1 SERVING
*The PointsPlus® and SmartPoints® values for these products and/or recipes were calculated by Hungry Girl and are not an endorsement or approval of the product, recipe or its manufacturer or developer by Weight Watchers International, Inc., the owner of the PointsPlus® registered trademark and SmartPoints® registered trademark.

SmartPoints® value not what you expected? Click here for more info on how the values are calculated, plus more FAQs about PointsPlus® and SmartPoints® values on our website.