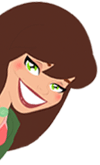 Welcome to Hungry Girl! Thanks for subscribing to our daily emails. In order to make sure you start to receive them, please take a moment to add hungrygirl@hungry-girl.com to your address book or to your list of approved email addresses. The daily emails are PACKED with guilt-free recipes, food finds, tips 'n tricks, and more!


Check us out at facebook.com/hungrygirl for behind-the-scenes fun with Lisa (HG herself)!
Visit pinterest.com/hungrygirl! It's photo-mania with product finds, snack ideas, recipes, and more.
Follow Lisa on Twitter at twitter.com/hungrygirl and on Instagram under the name hungrygirl.

There's also a SLEW of best-selling HG books, packed with recipes and survival strategies for guilt-free eating. Click here for recipe photos, nutritional info, and amazing online deals!
Lisa and the HG team have been sending emails since 2004, and every single email is archived at hungry-girl.com. Head on over to check 'em out!
Welcome to our fun, guilt-free world... Enjoy!

Copyright © 2017 Hungry Girl. All Rights Reserved.