>
>
>

Denver Omelette in a Mug
HG's Hottest Recipes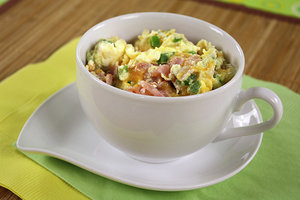 Denver Omelette in a Mug
Entire recipe:
122 calories
, 0.75g total fat (<0.5g sat fat),
702mg sodium
,
6g carbs
,
0.5g fiber
,
2.5g sugars
,
21.5g protein
PointsPlus
® value 3*
SmartPoints
® value 2*
Ingredients
1/4 cup chopped green bell pepper
2 tbsp. chopped onion
1/2 cup fat-free liquid egg substitute
1 oz. sliced 97% to 98% fat-free ham (about 2 slices), chopped
2 tbsp. shredded fat-free cheddar cheese
Directions
In a large microwave-safe mug sprayed with nonstick spray, microwave pepper and onion for 1 1/2 minutes, or until softened.

Blot away excess moisture. Add egg substitute, stir, and microwave for 1 minute.

Stir in ham and cheese. Microwave for 1 minute, or until set. Eat up!
MAKES 1 SERVING
*The PointsPlus® and SmartPoints® values for these products and/or recipes were calculated by Hungry Girl and are not an endorsement or approval of the product, recipe or its manufacturer or developer by Weight Watchers International, Inc., the owner of the PointsPlus® registered trademark and SmartPoints® registered trademark.

SmartPoints® value not what you expected? Click here for more info on how the values are calculated, plus more FAQs about PointsPlus® and SmartPoints® values on our website.