Your Ultimate Halloween Candy Calorie Guide
>
>

Your Ultimate Halloween Candy Calorie Guide
Oct 27 2017
Happy (almost) Halloween! Before you dig into that pile of bite-sized candies, check out this calorie guide to some of the most popular picks! It's almost scary how helpful it is... Don't forget to SHARE!
Candy Size 101
Minis are the small square candies. Snack-size and fun-size treats are usually about 2 inches long. And now you know...


Low-Calorie Standouts!
Each of these treats has 25 calories or less (
SmartPoints
® value 1*). Score!
3 Musketeers Minis
Hershey's Kisses
Smarties Candy Rolls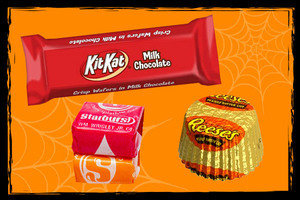 50 Calories or Less!
Just 30 - 50 calories (
SmartPoints
® value 2*) for each of these goodies. Yes!
Airheads Mini Bars
Kit Kat Miniatures
Milky Way Minis
Reese's Peanut Butter Cups Miniatures
Snickers Miniatures
Starburst Fun Size (2 pieces)
Twix Caramel Cookie Bars Minis
Mid-Calorie Treats!
Each of these sweets has 50 - 70 calories (
SmartPoints
® value 3*). Not too shabby...
3 Musketeers Fun Size
Jolly Ranchers Lollipop
M&M's Fun Size
Skittles Fun Size
Sour Patch Kids Treat Size
Swedish Fish Treat Size
York Peppermint Patties Snack Size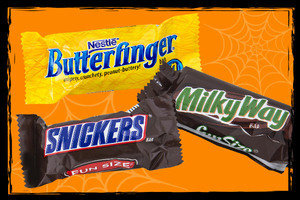 Worth the Splurge!
Don't overdo it with these... Each has 70 - 85 calories (
SmartPoints
® value 4*).
Butterfinger Fun Size
Milky Way Fun Size
Snickers Fun Size
Chew on this:
It's October 27th, which means it's National American Beer Day. If you're of legal drinking age, enjoy a light beer or two. The average 12-oz. bottle has 100 calories... sometimes less!
Pass this along to any calorie-conscious pals! Click "Send to a Friend" ASAP.
We may have received free samples of food, which in no way influences whether these products are reviewed favorably, unfavorably, mentioned with indifference, or mentioned at all. Click for more about our editorial and advertising policies.
SmartPoints® value* not what you expected? We follow the same method as WW (formerly known as Weight Watchers) when calculating the value of a recipe: We add up the SmartPoints® values* of the individual ingredients using the Recipe Builder, not the calculator. (Many foods have a value of zero and remain zero in recipes.)

*The SmartPoints® values for these products and/or recipes were calculated by Hungry Girl and are not an endorsement or approval of the product, recipe or its manufacturer or developer by WW International, Inc., the owner of the SmartPoints® trademark.