Media Kit, Brand Reel & Ad Examples
Media Kit
We're thrilled that you're considering Hungry Girl for your marketing initiative.
Click here
to download an overview of all things Hungry Girl. Questions? Contact us at
media@hungry-girl.com
!
Brand Reel
Ad Examples
Here are a few examples of some of the advertising opportunities we offer...


Sponsor Spotlight (Email Feature)
We will complement our daily editorial content with a spotlight on YOUR brand's objective, up to 30% share of voice. We will highlight your brand's attributes, where to buy, and more, all in the Hungry Girl voice that readers know and trust. This ad will also include a custom image, links to your site, and other calls to action you'd like to feature.
Click here for an example
.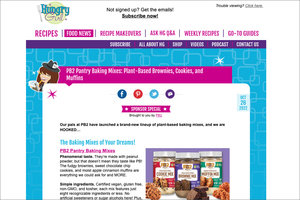 Sponsor Special (Dedicated Email)
An entire email of custom creative content with 100% share of voice. This is the only content Hungry Girl subscribers will receive that day, giving your brand maximum impact! The email can include custom recipe ideas, multiple photos, various calls to action, and more.
Click here for an example
.
Custom-Created Recipes
Hungry Girl is known for our healthy & delicious recipes. Under your direction, we will create custom recipes that feature your product. We'll also deliver industry-level photography and create a custom landing page on our website for the recipe. The recipe can be amplified via social media and newsletter inclusion.
Click here for examples
.
Sponsored Video
Bring your brand to life via custom-created video content. We will highlight your product or initiative with custom recipe ideas, tips & tricks, or by featuring our favorite attributes. We work with expert videographers and editors to produce industry-level results. Amplify your video via social media and newsletter inclusion.
Click here for an example
.
We may receive affiliate compensation from some of these links. Prices and availability are subject to change.

We may have received free samples of food, which in no way influences whether these products are reviewed favorably, unfavorably, mentioned with indifference, or mentioned at all. Click for more about our editorial and advertising policies.
*The WW Points® values for these products and/or recipes were calculated by Hungry Girl and are not an endorsement or approval of the product, recipe or its manufacturer or developer by WW International, Inc., the owner of the Points® trademark.

Questions on the WW Points® values listed? Click here.

Hungry Girl provides general information about food and lifestyle. This information and any linked materials are not intended and should not be construed as medical advice, nor is the information a substitute for professional medical expertise or treatment. Click here for more information.