Hungry Girl TO THE MAX! The Ultimate Guilt-Free Cookbook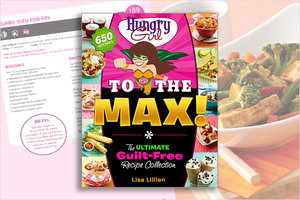 Go to the max with the most massive and complete Hungry Girl cookbook ever -- 650 recipes from the guru of guilt-free eating!
Consider this your HUNGRY GIRL BIBLE
. Lisa Lillien has created a book that is a must-have for anyone who craves insanely delicious food without the high-calorie price tag! Hungry Girl classics like... 
⭑ 
large-and-in-charge egg mugs
⭑ 
oversized oatmeal bowls
⭑ 
slow-cooker recipes
⭑ 
foil-pack dishes
⭑ 
fast-food swaps
You'll also find
single-serving recipes, dishes with five ingredients or less, meatless meals
, and more!
Recipe photos available here
.
As the WW plans have changed since this book was published,
SmartPoints
® values are not available at this time. To calculate any recipe's
SmartPoints
® value, plug the ingredients into the Recipe Builder set to your plan on the WW website. (Click "Create" and select "Recipe.")
This book is available wherever books are sold and via the following online retailers... Click around for the best deals!
FYI: As Amazon and Barnes & Noble affiliates, we may receive compensation from some of these links.