>
>
>

Slammin' Strawberry Daiquiri
HG's Hottest Recipes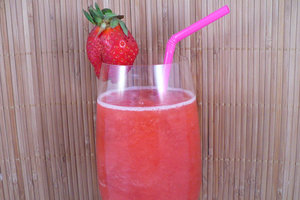 Slammin' Strawberry Daiquiri
Entire recipe:
121 calories
, 0g total fat (0g sat fat),
10mg sodium
,
4g carbs
,
0.5g fiber
,
2g sugars
,
0g protein
PointsPlus
® value 4*
SmartPoints
® value 4*
Ingredients
One 2-serving packet (about 1 tsp.) sugar-free strawberry powdered drink mix
1 1/2 oz. white rum
1/2 oz. lime juice
3 frozen unsweetened strawberries, partially thawed
1 cup crushed ice or 5 to 8 ice cubes
Directions
In a glass, combine drink mix with 4 oz. cold water and stir to dissolve.

Transfer mixture to a blender, and add all other ingredients. Blend at high speed until smooth.

Pour into the glass, and slurp that baby up!
MAKES 1 SERVING
*The PointsPlus® and SmartPoints® values for these products and/or recipes were calculated by Hungry Girl and are not an endorsement or approval of the product, recipe or its manufacturer or developer by Weight Watchers International, Inc., the owner of the PointsPlus® registered trademark and SmartPoints® registered trademark.

SmartPoints® value not what you expected? Click here for more info on how the values are calculated, plus more FAQs about PointsPlus® and SmartPoints® values on our website.