Get Healthy with HG in 2018!
>
>

Get Healthy with HG in 2018!
Jan 10 2018
Is your New Year's resolution to lose weight and keep it off FOREVER? Supercharge your motivation by booking the Hungry Girl Cruise, setting sail on April 7th! Lisa will personally give you the tools you need to end the battle with the scale once and for all. Plus, you'll enjoy an incredible Caribbean vacation on a luxury cruise ship! Here's what to expect...
Inspiring & Info-Packed Sessions, Panels, Demos & More!
This interactive programming will change the way you look at food and dieting. Here's just a taste of what you'll experience!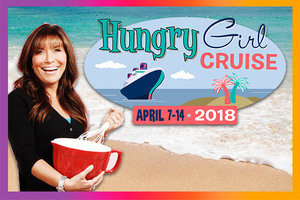 * What to Do If You're Always Hungry -
Learn to outsmart your cravings with strategies that WORK.
* Calorie-Burning Secrets -
Not an exercise fan? Lisa's personal trainer, Mandee, has you covered with easy ways to burn, burn, burn!
* Fitness & Food Myth Busting -
Award-winning health journalist Robert J. Davis, PhD, reveals some shocking and game-changing truths.
* Success Story Panel and Q&A -
Get real-world advice from weight-loss superstars. Hear how they did it!
* Supermarket Smarts -
Learn how Lisa's personal food-planning philosophy can revolutionize your weight-management strategy.
CLICK FOR THE FULL PROGRAMMING SCHEDULE!
Tropical Destinations: Beaches, Sight-Seeing, Shopping & Beyond!
Whether you crave relaxation, culture, or adventure, this promises to be the vacation of a lifetime...
* Half Moon Cay, Bahamas -
A private island with silky, white-sand beaches and all the magic of a secluded retreat!
* George Town, Cayman Islands -
Clear blue waters, duty-free shopping, and tropical rainforests!
* Cozumel, Mexico -
Natural beaches, bright storybook coral reefs, botanical gardens, and top-notch cuisine!
* Key West, Florida -
A subtropical paradise! Take in the history, architecture, natural beauty, and more.
CLICK FOR THE FULL 7-NIGHT ITINERARY!
Bonding & Fun with Lisa & Team, Plus Fellow HG Fans!
Uncover a support system of forever friends that will last long after the cruise ends!
* Cocktail Parties, Karaoke & Entertainment -
Snap selfies, sip HG margaritas, rock the mic, and take in the ship's world-class live music!
* All-Levels Exercise, Dance Breaks & Deckwalking -
Join Mandee for energizing morning workouts and reinvigorating mid-session stretches to music! Or join Lisa and HG staffers for a stroll around the boat to rack up those daily steps.
* Group Dinners with HG Options -
Enjoy delicious food and friendly conversation nightly! There will be lots of healthy choices on the menu, including special Hungry Girl entrées and desserts. (Of course, there will also be decadent dishes worth splurging on!)
* Pool Lounging, Beach Relaxation & Excursions -
Unwind by the ocean, take in the port sites, or take a mid-day dip in one of the ship's luxury pools!
WE CAN'T WAIT TO GET TO KNOW YOU!
Chew on this:
Today is January 10th, National Bittersweet Chocolate Day. This calls for a batch of Double Chocolate Cheesecake Dip, made with semi-sweet chocolate chips!
Start planning your trip with friends and/or family members... Click "Send to a Friend" now!
Send it in! She answers new Qs each week (but cannot respond to emails personally).
We may receive affiliate compensation from some of these links. Prices and availability are subject to change.

We may have received free samples of food, which in no way influences whether these products are reviewed favorably, unfavorably, mentioned with indifference, or mentioned at all. Click for more about our editorial and advertising policies.
*The WW Points® values for these products and/or recipes were calculated by Hungry Girl and are not an endorsement or approval of the product, recipe or its manufacturer or developer by WW International, Inc., the owner of the the Points® trademark.

Questions on the WW Points® values listed? Click here.

Hungry Girl provides general information about food and lifestyle. This information and any linked materials are not intended and should not be construed as medical advice, nor is the information a substitute for professional medical expertise or treatment. Click here for more information.