New from Green Giant: Veggie Fries, Veggie Onion Rings, Dash Seasoned Sides & More
>
>

New from Green Giant: Veggie Fries, Veggie Onion Rings, Dash Seasoned Sides & More
Nov 18 2020
Our friends at Green Giant continue to turn vegetables into amazing (and delicious!) creations. Check out their latest innovations, plus money-saving coupons. Your freezer will never be the same…


Green Giant Veggie Fries
About 11 fries (85g): 170 - 180 calories, 7 - 8g total fat (1.5 - 2g sat. fat), 320 - 360mg sodium, 21 - 23g carbs, 2g fiber, 1 - 2g sugars, 4 - 5g protein --
SmartPoints
® value 5 - 6*
We're all about baked French fries made from veggies, and now Green Giant has done the work for us! You get a FULL serving of veggies in every serving of Veggie Fries, and the crispy crunchiness is beyond satisfying. There are three phenomenal flavors:
Zucchini Garlic & Parmesan
,
Cauliflower Ranch with Bacon
, and
Broccoli & Cheese
. Crisp 'em up in the air fryer or oven, and enjoy as a side dish or snack.
Green Giant Veggie Rings
About 3 rings (85g): 200 - 210 calories, 7 - 8g total fat (1.5g sat. fat), 270 - 330mg sodium, 30g carbs, 3g fiber, 2g sugars, 5g protein --
SmartPoints
® value 6 - 7*
What
can't
cauliflower become with the help of Green Giant? The new Veggie Rings are made with (you guessed it) real cauliflower… Such a delicious & satisfying way to get an onion-ring fix while getting more veggies into your diet! They're equally amazing whether you crisp them up in an air fryer or oven. Talk about a crunchy craving crusher! Try both the
Cauliflower French Onion
and
Cauliflower Three Cheese with Bacon
… YUM.
Green Giant Simply Steam Made with Dash Salt-Free Seasoning
2/3 - 3/4 cup (80 - 81g): 45 - 80 calories, 2 - 2.5g total fat (0g sat. fat), 5 - 25mg sodium, 5 - 14g carbs, 2 - 3g fiber, 2g sugars, 2 - 3g protein --
SmartPoints
® value 1 - 2*
This lineup combines two of our favorites: Green Giant's steam-in-the-bag veggies and flavorful Dash Salt-Free Seasoning! There are three so-low-in-sodium varieties: zesty
Lemon Pepper Vegetable Medley
, spicy
Southwest Chipotle Sweet Corn Blend
, and (our favorite)
Garlic & Herb Vegetable Medley
! We'll be stocking up on these easy meal starters & simple side dishes STAT and suggest you do the same.
Green Giant Grilled Veggies: Eggplant and Peppers & Onions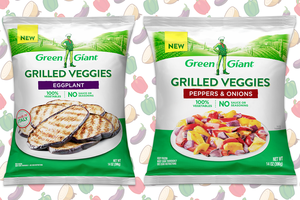 1/4 of package (99g): 40 - 50 calories, 0g total fat (0g sat. fat), 0mg sodium, 9 - 11g carbs, 2 - 5g fiber, 3 - 6g sugars, 1 - 2g protein --
SmartPoints
® value 0*
Talk about tasty timesavers! Get the fresh taste of grilled veggies without the need for a grill. The ONLY ingredient is vegetables -- no sauces or seasonings.
The yummy Eggplant
bakes up perfectly in the oven… We layered it with sauce and cheese for a naked eggplant Parm! And we love that
Peppers & Onions
give us recipe-ready chopped veggies without any hassle: We'll be adding them to omelettes, egg scrambles, stir-frys, and more. Mmmmm…
Savings Alert!
Don't go to the store empty handed… Download
these coupons
for $7 in savings!
Then
click here
to find these new products in a supermarket near you.
Chew on this:
November is World Vegan Month. Whether you follow a plant-based diet or are just looking to get more veggies into your life, these Green Giant products are here to help!
Fill your friends' freezers -- click "Send to a Friend" STAT!
Send it in! She answers new Qs each week (but cannot respond to emails personally).
We may receive affiliate compensation from some of these links. Prices and availability are subject to change.

We may have received free samples of food, which in no way influences whether these products are reviewed favorably, unfavorably, mentioned with indifference, or mentioned at all. Click for more about our editorial and advertising policies.
*The WW Points® values for these products and/or recipes were calculated by Hungry Girl and are not an endorsement or approval of the product, recipe or its manufacturer or developer by WW International, Inc., the owner of the Points® trademark.

Questions on the WW Points® values listed? Click here.

Hungry Girl provides general information about food and lifestyle. This information and any linked materials are not intended and should not be construed as medical advice, nor is the information a substitute for professional medical expertise or treatment. Click here for more information.