Hungry Girl Magazine Winter 2020 Issue: Preorder Today
>
>

Hungry Girl Magazine Winter 2020 Issue: Preorder Today
Dec 4 2019
Lisa here!
I'm interrupting today's Ask HG to bring you a very special announcement: After almost an entire year, a brand-new special edition of
Hungry Girl
magazine is NOW available for preorder! This high-quality keepsake issue is INCREDIBLE: 70+ recipes, weight-loss motivation, and (believe it or not) over $10 in coupons for some of my favorite food finds.
PREORDER NOW!
Preorders begin shipping on 12/17. The issue arrives in stores on 12/27. Christmas delivery is not guaranteed.
New WW
SmartPoints
® values* will be available online.
Over SEVENTY Delicious Recipes: Easy Meal Solutions, Smart Snacks & More
We're making it simple to stick to your healthy eating resolutions. Get ready for recipes like…
⭑
No-Cook Breakfasts
A 5-minute breakfast wrap, make-ahead yogurt pops, and more.
⭑
6-Ingredient Slow Cooker Meals
Creamy tomato chicken, our best-ever turkey chili… I'm even sharing a slimmed-down version of my mom's pineapple chicken!
⭑
2-Ingredient Desserts
These easy-peasy treats will crush your cravings: cake in a mug, soft cookies, and the BEST ways to elevate your fruit.
⭑
Protein-Packed Casseroles
Big portions, small calorie counts! These oven dishes are high in protein and low in starch.
⭑
Plant-Based Powerhouses
Decadent veggie bowls, make-ahead meatless burgers better than anything you'll find in stores… Mmmm!
Must-Read Info & Motivation to Jumpstart Your Weight Loss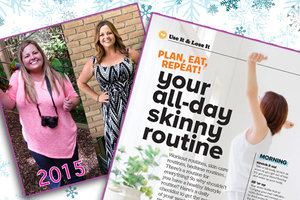 Whether you're well into your weight-loss journey, stuck at a plateau, or just getting started, these tips are for you…
⭑ Skinny Routine
A step-by-step guide to weight-loss success, one day at a time.
⭑ Success Stories
Tried & true tips from fans who've lost weight and kept it off. Prepare to be inspired!
⭑ Advice from Nutrition Experts
Our go-to health pros weigh in on common diet myths. Plus, Joy Bauer shares five foods to cure everyday ailments.
… and so much more!
Over $10 in Coupons… This Magazine Pays for Itself!
Our favorite healthy food brands are offering mega savings on their incredible products. Save big on Green Giant Veggie Swap-Ins, Enlightened Ice Cream, FlapJacked Soft Baked Cookie Bars & more! With a pantry, fridge, and freezer full of these better-for-you buys, you'll be off to a healthy start in 2020.


Preorders begin shipping on 12/17. The issue arrives in stores on 12/27. Christmas delivery is not guaranteed.
New WW
SmartPoints
® values* will be available online.  
Click "Send to a Friend" to share the exciting news!
Send it in! She answers new Qs each week (but cannot respond to emails personally).
We may receive affiliate compensation from some of these links. Prices and availability are subject to change.

We may have received free samples of food, which in no way influences whether these products are reviewed favorably, unfavorably, mentioned with indifference, or mentioned at all. Click for more about our editorial and advertising policies.
*The WW Points® values for these products and/or recipes were calculated by Hungry Girl and are not an endorsement or approval of the product, recipe or its manufacturer or developer by WW International, Inc., the owner of the Points® trademark.

Questions on the WW Points® values listed? Click here.

Hungry Girl provides general information about food and lifestyle. This information and any linked materials are not intended and should not be construed as medical advice, nor is the information a substitute for professional medical expertise or treatment. Click here for more information.