Brand-New Healthy Food Finds: Chickpea Trail Mix, Chocolate Seltzer, Stuffed Dates
>
>

Brand-New Healthy Food Finds: Chickpea Trail Mix, Chocolate Seltzer, Stuffed Dates
Mar 29 2023
Lisa and several members of Team Hungry Girl recently hit up Natural Foods Expo West, an incredible event showcasing new natural food products! Check out some of the tasty new items we discovered…




1 oz.: 120–130 calories, 5–7g total fat (0.5–1.5g sat. fat), 160–310mg sodium, 14–17g carbs, 2–3g fiber, 1–6g total sugars (0–6g added sugars), 4–5g protein
WW Points® value 3–5*
Healthier trail mix has arrived! The brains at Biena (makers of delicious bean-based snacks) have really outdone themselves. These nutritious mixes feature the brand's signature roasted chickpeas plus ingredients like dark chocolate, cranberries, almonds, and pretzels. Try all three tasty flavors:
Magic Monster
,
Tex Mex
(our fave), and
Schoolhouse Classic
. The chocolatey varieties have at least 40% less sugar than traditional trail mix! Find them at Sprouts and Stop & Shop, or
stock up online
.
16 oz. can: 0 calories, 0g total fat (0g sat. fat), 0mg sodium, 0g carbs, 0g fiber, 0g total sugars (0g added sugars), 0g protein
WW Points® value 0*
Who remembers Canfield's Diet Chocolate Fudge Soda? Consider this the better-for-you and even more delicious version: It's completely free of sugar and other sweeteners! We were shocked that fully unsweetened chocolate bubbly water could be THIS good, but it is. The lineup also includes
French Vanilla
,
Orange Sherbet
, and more… We can't wait to try them all! You can find them at select retailers and
over on Amazon
.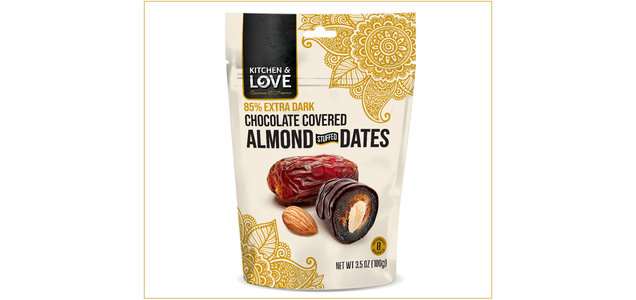 1 piece: 56 calories, 2g total fat (1g sat. fat), 1.3mg sodium, 9g carbs, 0.6g fiber, 6g total sugars (0.4g added sugars), 0.6g protein
WW Points® value 2*
We first fell in love with the whole stuffed dates concept when our pal
Joy Bauer
shared her recipe for
Chocolate Peanut Butter Dates
with us. Well, here's a ready-made version that's individually wrapped for perfect portion control! There's practically no added sugar, and the textures of the dates, chocolate, and almonds work so well together. Order them
directly from the brand's website
, or make like us and
one-click them from Amazon
!
Hungry for More Brand-New Healthy Food Finds?
Natural Foods Expo West was BURSTING with new finds. And for this week's episode of the
Hungry Girl: Chew the Right Thing!
podcast, Lisa's sharing the products she found MOST exciting. Including…
⭑ pickle-flavored almonds and pumpkin seeds
⭑ 100-calorie pancake puffs
⭑ light whipped topping in decadent flavors
…and so much more. Plus, an exciting interview with the founder of one of our favorite food brands.
And
subscribe
so you never miss an episode.
Don't hog all the new food finds! Share them with your food-loving friends.
We may receive affiliate compensation from some of these links. Prices and availability are subject to change.

We may have received free samples of food, which in no way influences whether these products are reviewed favorably, unfavorably, mentioned with indifference, or mentioned at all. Click for more about our editorial and advertising policies.
*The WW Points® values for these products and/or recipes were calculated by Hungry Girl and are not an endorsement or approval of the product, recipe or its manufacturer or developer by WW International, Inc., the owner of the Points® trademark.

Questions on the WW Points® values listed? Click here.

Hungry Girl provides general information about food and lifestyle. This information and any linked materials are not intended and should not be construed as medical advice, nor is the information a substitute for professional medical expertise or treatment. Click here for more information.