Crunchy Veggie Burgers, Seasonal Vegan Coffee Creamer, Gluten-Free Cheese Snacks
Oct 30 2023
Spotted on Shelves...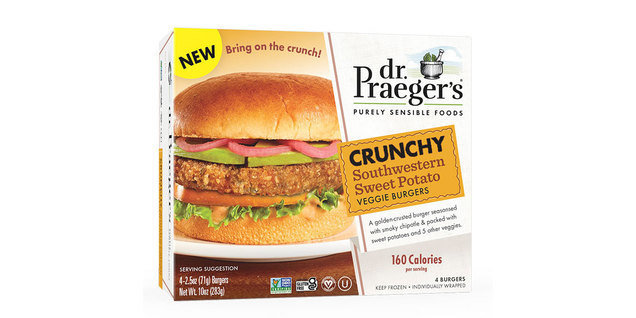 1 burger: 140–160 calories, 6–7g total fat (0–0.5g sat. fat), 400–420mg sodium, 19–23g carbs, 2–3g fiber, 2–3g total sugars (0–2g added sugars), 3g protein
WW Points® value 4–5*
You read that right: Dr. Praeger has launched a new lineup of veggie burgers coated with a
crunchy
brown-rice crust! In
Southwestern Sweet Potato
and
Cauliflower
varieties, the gluten-free & vegan patties are said to cook up perfectly in the air fryer. We love a healthy, veggie-packed way to get that satisfying fried-food texture. Look for them in freezer cases nationwide at retailers like Whole Foods Market, Sprouts Farmers Market, Publix and more… OR
stock up via QVC
!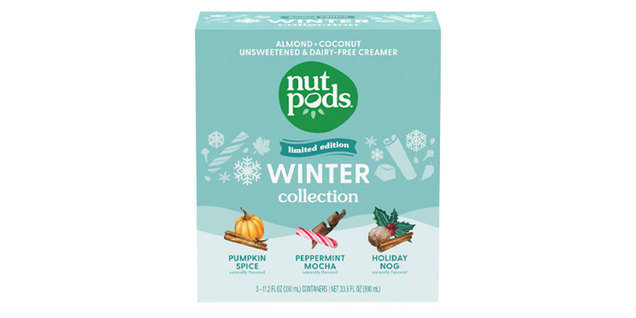 1 tbsp.: 10 calories, 1g total fat (0g sat. fat), 0mg sodium, 0g carbs, 0g fiber, 0g total sugars (0g added sugars), 0g protein
WW Points® value 0*
Make seasonally delicious coffee at home that's WAY lower in sugar than the coffee shops! Nutpods are back with their zero-sugar plant-based creamers in
Pumpkin Spice
, Holiday Nog, and
Peppermint Mocha
. Add flavor and creaminess, then go ahead and add your sweetener of choice (or don't, if you're already sweet enough).
Click for tips
on where to find these seasonal creamers at a grocer near you, or skip the trip around town and
order online from Amazon
or
the Nutpods site
.
1 oz. (about 15 pieces): 130–150 calories, 6–9g total fat (4–5g sat. fat), 190–330mg sodium, 9–11g carbs, 1­­­–2g fiber, 0–1g total sugars (0g added sugars), 9–11g protein
WW Points® value 4–5*
We recently taste-tested the
Bacon Cheddar Cheese flavor
of these crunchy cheese snacks as part of an
Amazon haul on the HG podcast
, and now we're giving them an extra shoutout. They're too good to miss out on! These baked-not-fried snacks are made mostly of real cheese. This gluten-free line includes
six bite-sized varieties
, including
an everything-bagel version
. Find them at select retailers nationwide, or
order online from Amazon
or Sonoma Creamery.
Fun Amazon Find (Not Just for Kids!)
Back in 2020, Lisa got super into scratch art. The rainbow-colored paper has a matte black layer on top, so all you need to do is scratch away the black layer with a drawing stylus to create colorful designs. We gave this scratch art set another low-key shoutout recently, and plenty of people jumped on it! You get 50 pieces of scratch paper, 5 styluses, 4 pages of stencils, and a soft brush to sweep debris off your artwork. In case you missed out previously, consider this a chill & easy creative medium that has a little more zazzle than plain ol' doodling.
And that's all we've got. 'Til next time… Chew the right thing!




Chew on this:
Apparently, October 30th is Haunted Refrigerator Night. Clear out anything scary that might be lurking in the back corners of your crisper! (And maybe get some fridge organizers while you're at it.)
Share today's healthy food finds with your friends—they like food too!
We may receive affiliate compensation from some of these links. Prices and availability are subject to change.

We may have received free samples of food, which in no way influences whether these products are reviewed favorably, unfavorably, mentioned with indifference, or mentioned at all. Click for more about our editorial and advertising policies.
*The WW Points® values for these products and/or recipes were calculated by Hungry Girl and are not an endorsement or approval of the product, recipe or its manufacturer or developer by WW International, Inc., the owner of the Points® trademark.

Questions on the WW Points® values listed? Click here.

Hungry Girl provides general information about food and lifestyle. This information and any linked materials are not intended and should not be construed as medical advice, nor is the information a substitute for professional medical expertise or treatment. Click here for more information.