The Good Crisp Potato Crisps & Cheese Balls: Recipe Hacks and Savings
>
>

The Good Crisp Potato Crisps & Cheese Balls: Recipe Hacks and Savings
Sep 15 2021
The Good Crisp Company Potato Crisps are THE Pringles swap you need, and the wonder brand's NEW better-for-you Cheese Balls are the perfect update to a classic favorite! Keep reading for more info, recipe ideas, and 50% off…


Two Great Products You'll Flip Over
The Good Crisp Company Potato Crisps
1 oz.: 140 calories, 7g total fat (3–3.5g sat. fat), 170–310mg sodium, 17–18g carbs, 1–2g fiber, 0–1g sugars, 1–2g protein —
SmartPoints
® value 5*
⭑
No Grease, All Crunch.
Unlike other chips, these are perfectly crunchy without any oily residue. They have less fat and fewer calories than traditional chips in a canister and zero artificial flavors or ingredients. They're also gluten free and non-GMO, and three of the flavors are vegan!
⭑
A Flavor for Every Craving!
Choose from
Classic Original
(Lisa's current favorite),
Aged White Cheddar
,
Sea Salt & Vinegar
,
Outback BBQ
, and
Sour Cream & Onion
!
⭑
Variety Pack Perfection.
Our pals at The Good Crisp Company know how hard it can be to choose from five delicious flavors… and you don't have to!
The Variety Pack of multi-serving canisters
now contains all FIVE flavors.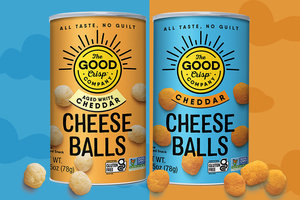 The Good Crisp Company Cheese Balls
1 oz. (28g, about 36 pieces): 140 calories, 7g total fat (1g sat. fat), 190–250mg sodium, 17g carbs, 1g fiber, 1–2g sugars, 2g protein —
SmartPoints
® value 4–5*
⭑
Clean & Nutritious Ingredients.
You can feel GREAT about eating these because they're made with simple & delicious ingredients and have less total fat and sodium than traditional cheese balls. They also feature Wellmune… clinically proven to strengthen the immune system!
⭑
Two Nostalgic, Crave-Worthy Flavors.
Whether or not you consider orange fingers a cheese-ball must, there's a flavor for you! They're available in both
classic Cheddar
and
Aged White Cheddar
.
⭑
Crunchy Cheese Ball Taste & Texture.
They're just like the crunchy, airy cheese balls from your childhood! And they taste like the cheesy goodness you remember.
8 Crave-Worthy Ways to Use The Good Crisp Company Potato Crisps & Cheese Balls
1. As a Crunchy Coating
– Crush up your favorite flavor of chips or cheese balls, and use it in place of breadcrumbs as a coating for chicken, onion rings, and more!
2. As a Flavor-Packed Crouton Swap
– We love crunch in any form on our salads, and a handful of Cheese Balls adds crunch AND flavor.
3. In This Sweet & Salty Snack Hack
– Dip the Classic Original crisps in melted chocolate chips for a snack that satisfies all your cravings.
4. A New Take on Chips 'n Dip
– Sprinkle crushed crisps on top of your favorite savory dip, or mix them in for added flavor! Check out this recipe for
our Good 'n Crispy BBQ Chicken Dip
.
5. Added to Sandwiches for Extra Crunch
– Crunchy sandwiches are the best! Add some Potato Crisps to take it to the next level.
6. As a No-Bake Casserole-Style Topping
– Lightly crush either product, and sprinkle it over a stir-fry or skillet meal!
7. To Top Off Soups & Chilis
– Forget about oyster crackers… Add Cheese Balls instead! Perfect over broccoli & cheddar soup.
8. In a Savory Snack Mix
– Pair Cheese Balls with any combo of nuts, dried cranberries, pretzels, and freeze-dried fruit. So much yum!
Get 50% Off, Free Shipping, AND a Free Activity Book!
This special offer is too good to miss! Use code HUNGRYGIRL to save 50% sitewide on all The Good Crisp Company's incredible snacks… perfect timing for back-to-school season! PLUS, get a free activity book for your favorite kiddo while supplies last. (Or keep it for yourself. We won't judge.)
CLICK TO BUY!
Code: HUNGRYGIRL. Expires 9/22/21.
Chew on this:
In case you needed another reason to try Potato Crisps, September is National Potato Month! A Variety Pack is clearly the best way to celebrate.
Click "Send to a Friend" to share this incredible deal with a fellow snacker.
We may receive affiliate compensation from some of these links. Prices and availability are subject to change.

We may have received free samples of food, which in no way influences whether these products are reviewed favorably, unfavorably, mentioned with indifference, or mentioned at all. Click for more about our editorial and advertising policies.
*The WW Points® values for these products and/or recipes were calculated by Hungry Girl and are not an endorsement or approval of the product, recipe or its manufacturer or developer by WW International, Inc., the owner of the the Points® trademark.

Questions on the WW Points® values listed? Click here.

Hungry Girl provides general information about food and lifestyle. This information and any linked materials are not intended and should not be construed as medical advice, nor is the information a substitute for professional medical expertise or treatment. Click here for more information.