Healthy Foods at Costco: Pickle Salsa, Cake Bars, Street Corn Dip

Jul 5 2023
On this week's Hungry Girl: Chew the Right Thing! podcast, the gang reviewed more than a dozen new healthy foods at Costco… and they discovered some of the BEST Costco finds yet! Keep reading for three standout products available at Costco and more…
2 tbsp.: 5 calories, 0g total fat (0g sat. fat), 130mg sodium, 1g carbs, 0g fiber, 1g total sugars (0g added sugars), 0g protein
WW Points® value 0*
Summertime standout! Fresh pico de gallo meets crunchy pickle goodness in this spoonable condiment. It's basically the BEST pickle "relish" we've had. Add to burgers, hot dogs, grilled chicken… It's a cookout must-have. Choose from
Mild
,
Thick & Chunky Medium
, and
Hot
. Available at select Costco locations and other retailers:
Click to locate
!
1/3 bar: 123–129 calories, 10g total fat (6.5–7g sat. fat), 40–60mg sodium, 10g carbs, 1.4–2g fiber, 7g total sugars (7g added sugars), 1–1.5g protein

WW Points® value 7*
Imagine if you combined dense cake with rich fudge, then threw in melt-in-your-mouth texture? Congratulations, you just imagined THIS breakout bar line! The honey-sweetened truffle bars are made with superfoods and other clean ingredients. The blondie-esque
Birthday Cake flavor
is good, but the
Chocolate Cake
is a GAMECHANGER. Find these in the fridge section of
select retailers nationwide
, or
order online
.
2 tbsp.: 60 calories, 5g total fat (2g sat. fat), 170mg sodium, 2g carbs, 0g fiber, 1g total sugars (0g added sugars), 1g protein
WW Points® value 2*
Say hello to another superstar summer condiment! With corn, green chiles, cheddar, and cotija cheese, this flavorful yet mild dip has a light fluffiness reminiscent of whipped cream cheese. It would work fantastically well as a spread for wraps and grilled chicken, and it's an ideal dip for veggies and chips. Enjoy it hot, cold, or anywhere in between.
Click to find
. (It's not just at Costco!)
Hungry for More Healthy Foods at Costco?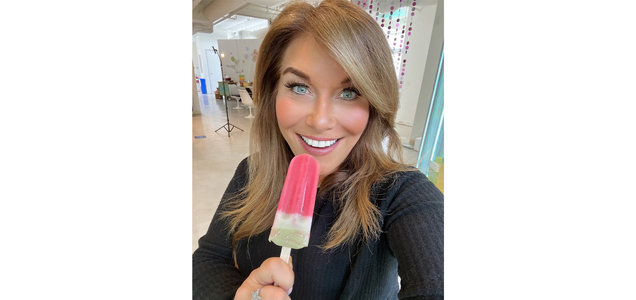 This week's
Hungry Girl: Chew the Right Thing!
podcast may very well be the gang's best-ever Costco haul! Tune in to hear what they think of products like…
⭑ 60-calorie watermelon pops
⭑ low-carb pizza-inspired wraps
⭑ heat & eat orange chicken
BONUS:
A special interview between Lisa and the one & only
Tattooed Chef
! And so much more…
Also available on your phone's podcast app.
Subscribe
so you never miss an episode!
Chew on this:
Happy National Apple Turnover Day, July 5th! Celebrate anywhere you want with these On-The-Go Apple Pies.
You're not the only one who loves delicious food and Costco finds! Share this info with your best pals and favorite family members.
We may receive affiliate compensation from some of these links. Prices and availability are subject to change.

We may have received free samples of food, which in no way influences whether these products are reviewed favorably, unfavorably, mentioned with indifference, or mentioned at all. Click for more about our editorial and advertising policies.
*The WW Points® values for these products and/or recipes were calculated by Hungry Girl and are not an endorsement or approval of the product, recipe or its manufacturer or developer by WW International, Inc., the owner of the Points® trademark.

Questions on the WW Points® values listed? Click here.

Hungry Girl provides general information about food and lifestyle. This information and any linked materials are not intended and should not be construed as medical advice, nor is the information a substitute for professional medical expertise or treatment. Click here for more information.