Convenient and Affordable Meal Solutions from Home Chef
>
>

Convenient and Affordable Meal Solutions from Home Chef
Sep 22 2021
Our favorite meal-prep solution is back with new & even-more-convenient meal options. (We didn't think it was possible either!) Home Chef is super affordable and totally customizable! Read on for the 411 and $90 IN SAVINGS…


Delicious Dinner in a Flash!
Stocking up on meal kits is SUCH a smart way to ensure you get a healthy dinner on the table with ease. Home Chef takes the convenience up a notch with these weekly options…
⭑
Oven-ready meals
come with an oven-safe tin and take very little prep! Just follow the simple assembly instructions, and pop it in the oven for great flavor and quick cleanup.
⭑
New one-pot/one-pan meals
are here to feed the whole family from (you guessed it!) one pot. Get the same fresh & delicious Home Chef flavors without any excess dirty dishes.
⭑
Fast & Fresh microwavable meals
are incredible options for nights you don't feel like preheating the oven or standing over the stove. Just assemble and heat for a tasty meal in mere minutes.  
CLICK TO SAVE!
Code: 90HUNGRYG. Expires 10/10/21.
More Affordable Than Groceries!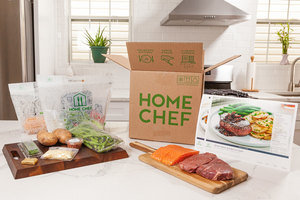 ⭑
It's TRUE.
With meals starting at as little as $6.99 per serving, Home Chef options are easier on your wallet than buying the same ingredients at a supermarket… as much as $20 cheaper per entrée!
⭑
Pre-Portioned Magic.
Thanks to pre-portioned ingredients, including oils and spices, there's no food waste (and no money in the form of food scraps being thrown in your garbage can).
⭑
No Takeout, No Problem.
With these ready-to-make meals on hand, there's no need to spend extra on takeout and delivery. Not to mention the savings in gas money…
CLICK TO SEE NEXT WEEK'S MENU!
Completely Customized for You!
⭑
Dietary-Preference Friendly.
With categories like Calorie-Conscious, Carb-Conscious, and Vegetarian, it's super easy to find the menu options that work best for your lifestyle.
⭑
Completely Customizable.
Get ready to swap to your heart's content! Many meals have the option to swap your proteins. Trade chicken for salmon, shrimp for chicken… There's even Impossible Burger meatless meat available!
CHECK OUT NEXT WEEK'S MENU!
Get $90 Off When You Order Now!
INCREDIBLE savings. Thanks to Home Chef, new Home Chef customers will receive a total of $90 off… the equivalent of 10 free meals! Use code 90HUNGRYG for $25 off your first and second boxes and $20 off your third and fourth boxes. But ACT FAST… This offer expires 10/10/21.
CLICK TO SAVE!
Code: 90HUNGRYG. Expires 10/10/21.
Chew on this:
Today, September 22nd, is officially the first day of fall! This time of year can be so busy. Make it easier with this offer from Home Chef…
Your friends love delicious & convenient meals, too! Click "Send to a Friend" NOW.
We may receive affiliate compensation from some of these links. Prices and availability are subject to change.

We may have received free samples of food, which in no way influences whether these products are reviewed favorably, unfavorably, mentioned with indifference, or mentioned at all. Click for more about our editorial and advertising policies.
*The WW Points® values for these products and/or recipes were calculated by Hungry Girl and are not an endorsement or approval of the product, recipe or its manufacturer or developer by WW International, Inc., the owner of the Points® trademark.

Questions on the WW Points® values listed? Click here.

Hungry Girl provides general information about food and lifestyle. This information and any linked materials are not intended and should not be construed as medical advice, nor is the information a substitute for professional medical expertise or treatment. Click here for more information.