Plant-Based Beef with Less Fat, Peanut Butter Wafer Cookies, Limited-Edition Lemon Cereal
>
>

Plant-Based Beef with Less Fat, Peanut Butter Wafer Cookies, Limited-Edition Lemon Cereal
May 1 2023
Spotted on Shelves...
4 oz.: 180 calories, 6g total fat (1g sat. fat), 260mg sodium, 10g carbs, 6g fiber, <1g total sugars (<1g added sugars), 21g protein
WW Points® value 2*
Meat avoiders and anyone looking for tasty alternatives, behold: Impossible has launched a lower-fat version of their beloved plant-based beef swap! With no cholesterol, 30% less sodium than their original, and 75% less saturated fat than traditional lean beef, this ground mixture is made primarily from soy protein concentrate and is gluten free. It's rolling out in the fresh meat section of select retailers, with wider nationwide availability coming soon. Click the Find Near Me button on
the product page
to locate. A major find with burger season on the horizon!
8 cookies: 150 calories, 8g total fat (5g sat. fat), 50mg sodium, 16g carbs, 1g fiber, 6g total sugars (3g added sugars), 4g protein
WW Points® value 7*
We're obsessed with Quadratini. The mini wafer squares come in loads of different flavors, and this newbie is an absolute standout: PEANUT BUTTER! The crispy crunchy texture is just divine, and we're crazy about the PB taste. Look for them at retailers like World Market, Walmart, Whole Foods, and more, or
order online from Amazon
.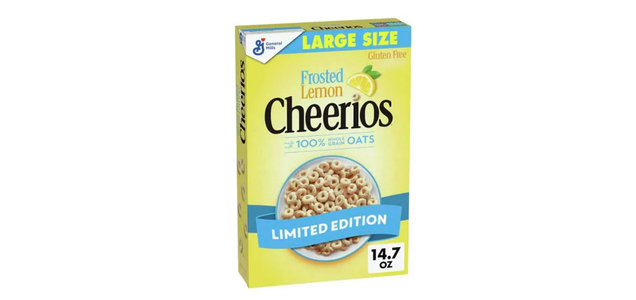 1 cup: 140 calories, 1.5g total fat (0g sat. fat), 150mg sodium, 29g carbs, 3g fiber, 11g total sugars (11g added sugars), 3g protein
WW Points® value 5*
We always get excited when a special new flavor of Cheerios hits shelves. This seasonal variety has a nice mild lemon flavor that would be great paired with sliced strawberries & vanilla almond milk. (Or in a parfait! Ooooh…) Look for it at retailers nationwide for a limited time only—just like spring, it won't last forever!
Target to the Rescue!
We love a good gift guide, and no matter what kind of mom you're shopping for,
Target.com
has great gifts at affordable prices, available for Pickup, Delivery, or Shipping! Check out these super categories, and shop 'til you drop…
And that's all we've got. 'Til next time… Chew the right thing!




Let your friends know what's new this week—share these finds now!
We may receive affiliate compensation from some of these links. Prices and availability are subject to change.

We may have received free samples of food, which in no way influences whether these products are reviewed favorably, unfavorably, mentioned with indifference, or mentioned at all. Click for more about our editorial and advertising policies.
*The WW Points® values for these products and/or recipes were calculated by Hungry Girl and are not an endorsement or approval of the product, recipe or its manufacturer or developer by WW International, Inc., the owner of the Points® trademark.

Questions on the WW Points® values listed? Click here.

Hungry Girl provides general information about food and lifestyle. This information and any linked materials are not intended and should not be construed as medical advice, nor is the information a substitute for professional medical expertise or treatment. Click here for more information.