Plant-Based Pizza with Hot Honey, Creamy Dill Pickle Dip, Mexican Street Corn Rice
>
>

Plant-Based Pizza with Hot Honey, Creamy Dill Pickle Dip, Mexican Street Corn Rice
May 22 2023
Spotted on Shelves...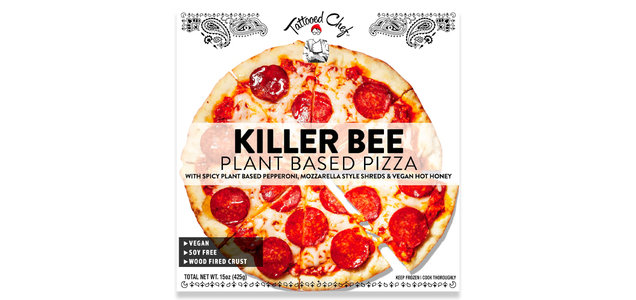 1/3 pizza: 360 calories, 13g total fat (8g sat. fat), 990mg sodium, 51g carbs, 3g fiber, 6g total sugars (4g added sugars), 7g protein
WW Points® value 13*
Hot honey is a hot trend, especially drizzled over pepperoni pizza, and the Tattooed Chef is all over it in a plant-based way. This frozen pizza boasts spicy plant pepperoni and mozzarella-style shreds, with vegan hot honey to drizzle on top. It packs a serious kick and tastes incredible! Click the Find Near You button on
the product page
to track down a pie ASAP.
2 tbsp.: 45 calories, 4g total fat (2g sat. fat), 150mg sodium, 2g carbs, 0g fiber, 1g total sugars (0g added sugars), 1g protein
WW Points® value 2*
Our pickle obsession continues, and this dill-icious dip delivers! It's creamy with amazing dill flavor and little pieces of pickle, which is always a fun bonus. We tried and loved the Original Dill, but there are also
Spicy
,
Plant-Based Dill
, and
Cheddar + Mustard
varieties.
Find a tub in your area
and get dipping… We found it at Target!
1 cup: 220 calories, 4.5g total fat (0.5g sat. fat), 460mg sodium, 42g carbs, 1g fiber, 1g total sugars (0g added sugars), 4g protein
WW Points® value 7*
No joke, we could eat this every day. This stellar shelf-stable side dish pairs parboiled rice with street-corn-inspired ingredients for a tasty dish that's ready to eat after just 90 microwave seconds! It's a great base for a meal: We'd add black beans, broccoli, and chicken. YUM. Find it at Whole Foods, Sprouts, and H-E-B stores, or order online from
the Somos webstore
.
Memorial Day Target Find... Going Fast!
Have you seen the sunshine-y products in
the latest Tabitha Brown for Target drop
? Snap up one of these colorful serving platters before the weekend to give your outdoor party gear an instant refresh. We love the bright colors paired with the practical design: five separate compartments, perfect for four foods and a dip! Find it at a store near you, and choose Pickup, Delivery, or Shipping…
And that's all we've got. 'Til next time… Chew the right thing!




Spare your friends from eating the same thing as last week. Share these finds now!
We may receive affiliate compensation from some of these links. Prices and availability are subject to change.

We may have received free samples of food, which in no way influences whether these products are reviewed favorably, unfavorably, mentioned with indifference, or mentioned at all. Click for more about our editorial and advertising policies.
*The WW Points® values for these products and/or recipes were calculated by Hungry Girl and are not an endorsement or approval of the product, recipe or its manufacturer or developer by WW International, Inc., the owner of the Points® trademark.

Questions on the WW Points® values listed? Click here.

Hungry Girl provides general information about food and lifestyle. This information and any linked materials are not intended and should not be construed as medical advice, nor is the information a substitute for professional medical expertise or treatment. Click here for more information.