6 Ways to Stay Active at Home: Walking, Exercise Videos, Cleaning Hacks & More
>
>

6 Ways to Stay Active at Home: Walking, Exercise Videos, Cleaning Hacks & More
Apr 17 2020
We're all trying to squeeze some extra activity into our suddenly sedentary, stay-at-home lives. Need some ideas and motivation? We've got tips… Every bit counts!




Take Up Housewalking
We're putting this one first because it's the easiest thing in the world AND because HG Lisa has been doing it non-stop. The concept is simple:
JUST WALK
. Are you on your phone? Do it while walking. Are you watching TV? Do it while walking. Take a lap around the living room, hit the stairs, or just walk in place. (A
Fitbit
or
other activity tracker
is a great way to keep yourself accountable.)
Workout on the Web
Does anyone say "the web" anymore? (It's better than "the net!") If you miss your gym or are just looking to try something new, the internet is BURSTING with free content. So many sites and trainers are offering specials these days. Beachbody has
bonus free content
,
Fitness Blender
features plenty of freebies, and
Daily Burn
offers a 30-day free trial. Or just go to YouTube: Find a trainer you love, and subscribe so you'll be notified each time they post a new video. And if your little ones are looking to get in on the fun, check out
Cosmic Kids Yoga
!
Clean & Organize Your Home
Now is the time for a deep clean! Go room by room, doing a little each day. Mop the floors, dust the surfaces, tidy up… and don't stop there! Let's do some organizing. Arrange your pantry by food type, color code your closet, and finally make sense of the stuff piling up in your garage. And crank up some tunes while you clean -- vacuum cleaners don't make the best dance partners, but beggars can't be choosers!
Rearrange & Redecorate
Spending extra time at home can cause you to start questioning the layout of your living space. So why not have fun with it? See how your setup looks with the couch on the other side of the family room. (Grab a housemate for help.) Hang those paintings you've been ignoring. Make a list for each room, and you'll have calorie-burning activities for days!
Stand While You Work
If you're working from home, by now you've discovered that sitting on your couch all day isn't the best long-term plan. Look for a place to put your computer where you can stand while you type. Even if you have a desktop computer, you can prop it up on a stack of books. And
check out this compact standing desk
: It's under $100! If there's a task you can attend to on your smartphone, like responding to simple emails, that's a work 'n stand no-brainer.
Solo Dance Party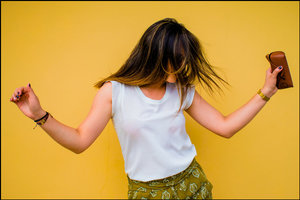 Sometimes, you've just gotta shake it off. Don't worry about looking cool -- just pump up the volume and move to the music! It's easy to get bogged down by the intensity of current events and all the physical distancing, so take time to get out of your head and into your body. You can also make it a family affair! Get everyone in on a group dance break for physical activity and family bonding time. Schedule it for right before dinner so you can sit down together in a good mood.
FYI: We may receive affiliate compensation from some of these links.




Chew on this:
Happy National Cheeseball Day, April 17th. Here's a cheeseball joke for you: What do you call a giant lizard made of cheese? Gorgonzilla!
Help your buddies get moving -- click "Send to a Friend" now.
We may receive affiliate compensation from some of these links. Prices and availability are subject to change.

We may have received free samples of food, which in no way influences whether these products are reviewed favorably, unfavorably, mentioned with indifference, or mentioned at all. Click for more about our editorial and advertising policies.
*The WW Points® values for these products and/or recipes were calculated by Hungry Girl and are not an endorsement or approval of the product, recipe or its manufacturer or developer by WW International, Inc., the owner of the Points® trademark.

Questions on the WW Points® values listed? Click here.

Hungry Girl provides general information about food and lifestyle. This information and any linked materials are not intended and should not be construed as medical advice, nor is the information a substitute for professional medical expertise or treatment. Click here for more information.