10-Minute Chicken Chili Microwave Recipe
>
>

10-Minute Chicken Chili Microwave Recipe
Oct 6 2020
If you want some homemade chili, but you don't necessarily want to be eating it every day for the next few weeks, just make a single-serving mug of it in the microwave! Recipes like this are why I always keep cooked chicken in the fridge…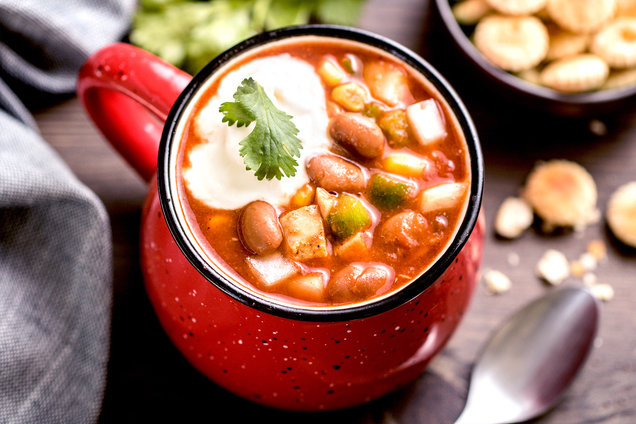 Chicken Chili in a Mug
Entire recipe: 254 calories, 2.5g total fat (0.5g sat. fat), 808mg sodium, 32g carbs, 8g fiber, 10g sugars, 24.5g protein

Click for WW Points® value*
Prep: 5 minutes
Cook: 5 minutes or less
Ingredients:
1/4 cup chopped bell pepper
2 tbsp. chopped onion
3/4 cup canned crushed tomatoes
2 oz. cooked and chopped skinless chicken breast
1/4 cup chili beans (pinto beans in chili sauce), not drained
2 tbsp. frozen sweet corn kernels
1 tsp. chili seasoning
1/4 tsp. garlic powder
Dash cayenne pepper
Optional toppings: light sour cream, fresh cilantro
Directions:
In a large microwave-safe mug, combine bell pepper, onion, and 1 tbsp. water. Cover and microwave for 1 minute and 15 seconds, or until soft.

Add all remaining ingredients, and mix well. Re-cover and microwave for 2 minutes, or until hot.
MAKES 1 SERVING
FYI: We may receive affiliate compensation from some of these links.




Chew on this:
Since October is National Chili Month, we're also sharing this Instant Pot recipe for those times you want a full batch of chili!
Tell your pals to chill and eat chili... Click "Send to a Friend" ASAP.
We may receive affiliate compensation from some of these links. Prices and availability are subject to change.

We may have received free samples of food, which in no way influences whether these products are reviewed favorably, unfavorably, mentioned with indifference, or mentioned at all. Click for more about our editorial and advertising policies.
*The WW Points® values for these products and/or recipes were calculated by Hungry Girl and are not an endorsement or approval of the product, recipe or its manufacturer or developer by WW International, Inc., the owner of the Points® trademark.

Questions on the WW Points® values listed? Click here.

Hungry Girl provides general information about food and lifestyle. This information and any linked materials are not intended and should not be construed as medical advice, nor is the information a substitute for professional medical expertise or treatment. Click here for more information.