Fast & Healthy Fire-Roasted Veggie Chili Recipe
>
>

Fast & Healthy Fire-Roasted Veggie Chili Recipe
Jan 3 2023
Who's hungry for our FIRST new recipe of 2023!? Set yourself up for healthy-eating success with a pot of this 20-minute fire-roasted veggie chili. Ingredients like canned fire-roasted tomatoes and jarred roasted red peppers are a great way to infuse extra flavor into quick-cooking dishes… Give it a try, and then share the recipe with a friend!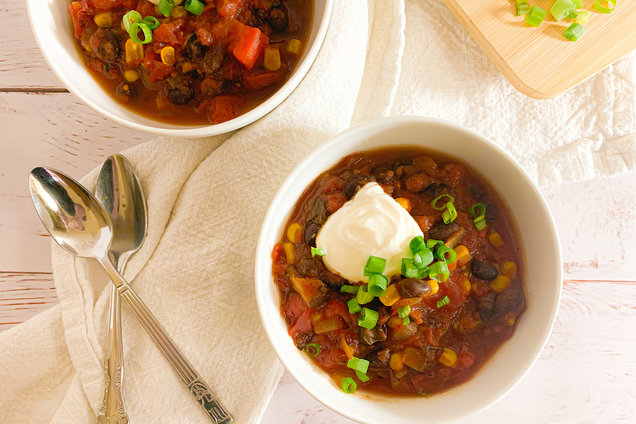 Fire-Roasted Veggie Chili
1/6 of recipe (about 1 cup): 185 calories, 0.5g total fat (0g sat. fat), 746mg sodium, 35g carbs, 9g fiber, 8g sugars, 9.5g protein

Click for WW Points® value*
Prep: 5 minutes
Cook: 15 minutes
Ingredients:
1 cup chopped mushrooms
1 cup chopped onion
1 tbsp. chili seasoning, divided
Two 15-oz. cans black beans, drained and rinsed
One 14.5-oz. can fire-roasted diced tomatoes (not drained)
1 1/2 cups canned crushed tomatoes
1/2 cup frozen sweet corn kernels
1/2 cup jarred roasted red peppers, drained and chopped
Optional toppings: chopped scallions, light sour cream
Directions:
Bring a large pot sprayed with nonstick spray to medium-high heat. Add mushrooms, onion, and 1 tsp. chili seasoning. Cook and stir until mostly softened, 4–6 minutes.

Add remaining ingredients, including the remaining 2 tsp. chili seasoning. Raise heat to high. Stirring occasionally, cook until veggies are tender and chili is hot and well mixed, about 5 minutes.
MAKES 6 SERVINGS
HG Tip: This recipe works with any frozen corn, but for added flavor, try a roasted variety like the one from Trader Joe's.
Tips & Tricks for Chili Days!
⭑ Pump up the protein. To make this recipe extra satisfying, stir in some chopped or shredded chicken, meatless crumbles, or lean ground meat.

⭑ Turn it into a taco salad. Spoon your chili over a bed of lettuce. Shredded cheese and sour cream toppings optional but encouraged!

⭑ Fill a baked potato. Make room for chili in your spuds! Once again, cheese and sour cream are invited to the party.

⭑ Whip up a hearty omelette. Cook up some egg whites, egg substitute, or eggs, then stir in or top off with chili.

⭑ When in doubt, freeze those leftovers. Divide cooled servings into microwave-safe containers before freezing. Then thaw overnight in the fridge, or just vent the lid and microwave until hot.


Chew on this:
Mmmm, it's National Chocolate-Filled Cherry Day, January 3rd. Get your cherry-chocolate fix AND a healthy breakfast with this Black Forest Oatmeal.
Share this 20-minute fire-roasted veggie chili recipe with all your hungry pals.
We may receive affiliate compensation from some of these links. Prices and availability are subject to change.

We may have received free samples of food, which in no way influences whether these products are reviewed favorably, unfavorably, mentioned with indifference, or mentioned at all. Click for more about our editorial and advertising policies.
*The WW Points® values for these products and/or recipes were calculated by Hungry Girl and are not an endorsement or approval of the product, recipe or its manufacturer or developer by WW International, Inc., the owner of the Points® trademark.

Questions on the WW Points® values listed? Click here.

Hungry Girl provides general information about food and lifestyle. This information and any linked materials are not intended and should not be construed as medical advice, nor is the information a substitute for professional medical expertise or treatment. Click here for more information.