Healthy 6-Ingredient King Ranch Chicken Casserole Recipe
>
>

Healthy 6-Ingredient King Ranch Chicken Casserole Recipe
Feb 22 2022
This lightened-up chicken casserole is pure comfort food! It's creamy, cheesy, and full of flavor. Whip one up as a family dinner, or make it just for you and enjoy a panful of leftovers... YUM.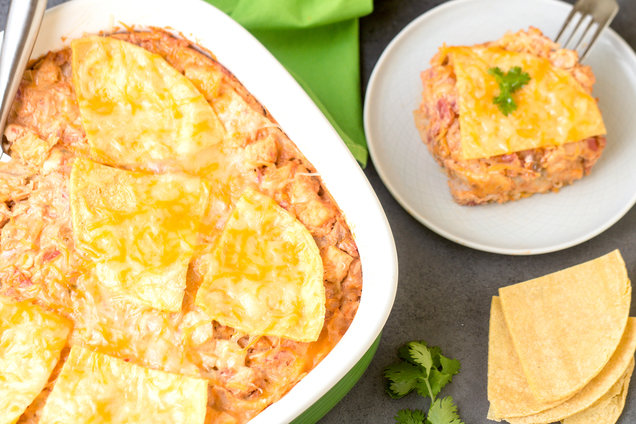 King Ranch Chicken Casserole
1/6th of casserole: 252 calories, 11g total fat (5.5g sat. fat), 626mg sodium, 14g carbs, 2g fiber, 4g sugars, 24g protein

Click for WW Points® value*
Prep: 15 minutes
Cook: 35 minutes
Ingredients:
1 cup chopped onion
3/4 cup light/reduced-fat cream cheese
3/4 cup shredded reduced-fat Mexican-blend cheese
12 oz. cooked skinless chicken breast, cut into bite-sized pieces
One 10-oz. can diced tomatoes with green chiles, drained
Three 6-inch corn tortillas, cut into quarters
Seasonings:
1/8 tsp. salt
1/8 tsp. black pepper
2 tbsp. taco seasoning
Directions:
Preheat oven to 375℉. Spray an 8"x8" baking pan with nonstick spray.

Bring a skillet sprayed with nonstick spray to medium-high heat. Add onion, salt, and pepper. Cook and stir until slightly softened, about 3 minutes.

Transfer onion to a large bowl. Add cream cheese, 1/4 cup shredded cheese, chicken, and taco seasoning. Mix until uniform. Fold in diced tomatoes with chiles.

Transfer half of the chicken mixture to the baking pan, and smooth out the surface. Add half of the tortilla pieces in an even layer, and top with 1/4 cup shredded cheese. Repeat layering with remaining chicken mixture, tortilla pieces, and 1/4 cup shredded cheese.

Cover with foil, and bake for 25 minutes.

Remove foil, and bake until entire dish is hot and bubbly and cheese has lightly browned, about 5 minutes.
MAKES 6 SERVINGS
Globally Inspired Protein Bars… Out-of-This-World Flavors!
1 bar: 190 calories, 8–10g total fat (1–2g sat. fat), 70–120mg sodium, 16–19g carbs, 5g fiber, 8–10g total sugars (3–5g added sugars), 10g protein
WW PersonalPoints™ value 4–5*
These healthy bars check ALL the right boxes…
 They're under 200 calories (nice!), packed with wholesome ingredients (yes, please), made without any artificial flavors or sweeteners (SCORE), and they're free of gluten and soy (hooray)! And with 10g protein, each one is SUPER satisfying.
You'll be OBSESSED with all three delicious flavors.
 We sure are! The 
CHURRO
 tastes just like the beloved carnival treat, with a boost of creamy almond butter and crunchy almonds. With 
PB & JELLY
, the classic combo takes a new form: the crunchy nuts and juicy strawberry bits will make your mouth SO happy. And then there's 
MEXICAN HOT CHOCOLATE
, which is exactly as good as it sounds—it's chocolatey, cinnamony, and completely unique.
Find UNiTE bars near you…
Click to locate
! UNiTE is available at Walmart, Sam's Club, Sprouts, Meijer, and other amazing retailers nationwide.
BONUS: Win a FREE variety pack and a $100 Walmart gift card!
 How great is that!? Thanks, UNiTE…
CLICK TO ENTER!
Rules apply. Ends 3/25/22.
You KNOW you have a friend or two who could use an easy casserole recipe. Share this one with them STAT!
We may receive affiliate compensation from some of these links. Prices and availability are subject to change.

We may have received free samples of food, which in no way influences whether these products are reviewed favorably, unfavorably, mentioned with indifference, or mentioned at all. Click for more about our editorial and advertising policies.
*The WW Points® values for these products and/or recipes were calculated by Hungry Girl and are not an endorsement or approval of the product, recipe or its manufacturer or developer by WW International, Inc., the owner of the Points® trademark.

Questions on the WW Points® values listed? Click here.

Hungry Girl provides general information about food and lifestyle. This information and any linked materials are not intended and should not be construed as medical advice, nor is the information a substitute for professional medical expertise or treatment. Click here for more information.