Low-Sugar Peanut Butter & Jelly Fudge Recipe
>
>

Low-Sugar Peanut Butter & Jelly Fudge Recipe
Mar 23 2021
We love making better-for-you fudge, and peanut butter fudge is basically the best… so why wouldn't we add jelly to the party? Sweet treats for everyone!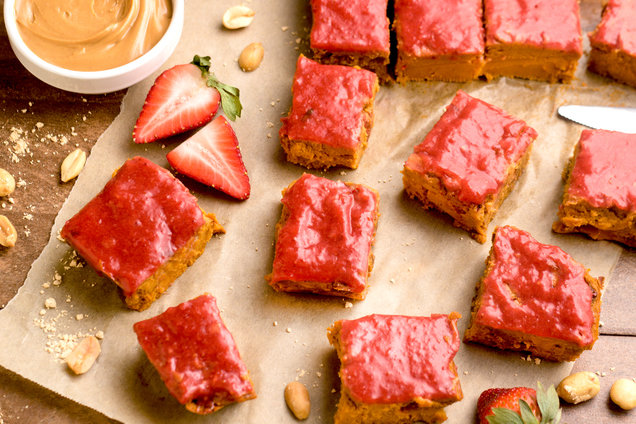 PB&J Fudge
1/20th of recipe: 85 calories, 5g total fat (0.5g sat. fat), 45mg sodium, 11g carbs, 2.5g fiber, 2.5g sugars, 4.5g protein
Prep: 15 minutes
Cook: 30 minutes
Cool: 3 hours
Ingredients:
Fudge
One 15-oz. can pure pumpkin
1 cup powdered peanut butter
2/3 cup creamy peanut butter
1/4 cup + 2 tbsp. natural no-calorie sweetener that measures like sugar
1/2 cup chopped freeze-dried strawberries
Topping
3/4 cup frozen strawberries, thawed, not drained
2 1/4 tsp. cornstarch
1 1/2 tbsp. natural no-calorie sweetener that measures like sugar
Directions:
Preheat oven to 350 degrees. Line an 8" X 8" baking pan with parchment paper.

Place all fudge ingredients except freeze-dried strawberries in a food processor. Puree until completely smooth and uniform.

Fold in freeze-dried strawberries. Spread mixture into the baking pan, and smooth out the top.

Bake until a toothpick (or knife) inserted into the center comes out mostly clean, 25 - 30 minutes.

Let cool completely, about 1 hour.

Meanwhile, make the topping. Clean food processor, and add topping ingredients. Puree until mostly smooth. Transfer to a medium microwave-safe bowl. Microwave for 1 minute, or until hot and thickened.

Spread topping over fudge. Cover and refrigerate until completely chilled, at least 2 hours.
MAKES 20 SEVINGS
HG Tip: If making the fudge in advance, refrigerate the topping separately.
It's Almost Here… Our Amazon Live Show!
Hungry Girl's Snacks & Hacks One-Stop Shopping Show
Mark your calendars, because Lisa's LIVE Amazon show will make its debut THIS Thursday! Here are three things you need to know…
 1. The show will air every other Thursday at 5pm PT/8pm ET.
Visit
hungry-girl.com/amazonlive
to watch… Even if you can't catch it live, you'll be able to see all the episodes there. P.S. Check out the teaser video that's up now!

2. This is a unique, live, and interactive Amazon shopping experience.
Lisa will share her favorite foods, kitchen gadgets, hacks, recipe ideas, and so much more. You'll be able to browse through and shop for the featured products right while you watch. You'll ALSO be able to interact with Lisa and the HG team in the live chat! 
3. To stay informed, follow Hungry Girl on Amazon.
Then download the Amazon app, and turn on notifications so you'll be alerted when she's live. Can't wait to see you there…

CLICK TO FOLLOW!
And for more info on the show,
click here
for FAQs.
FYI: We may receive affiliate compensation from some of these links.


Chew on this:
Well, would you look at that? March is National Peanut Month! Would we blame you if you topped today's fudge with some crushed peanuts? Not one bit…
Share these sweets! Click "Send to a Friend" now.
We may receive affiliate compensation from some of these links. Prices and availability are subject to change.

We may have received free samples of food, which in no way influences whether these products are reviewed favorably, unfavorably, mentioned with indifference, or mentioned at all. Click for more about our editorial and advertising policies.
*The WW Points® values for these products and/or recipes were calculated by Hungry Girl and are not an endorsement or approval of the product, recipe or its manufacturer or developer by WW International, Inc., the owner of the Points® trademark.

Questions on the WW Points® values listed? Click here.

Hungry Girl provides general information about food and lifestyle. This information and any linked materials are not intended and should not be construed as medical advice, nor is the information a substitute for professional medical expertise or treatment. Click here for more information.