4-Ingredient Air-Fryer Stuffed Everything Bagel Bites with Salt-Free Seasoning
>
>

4-Ingredient Air-Fryer Stuffed Everything Bagel Bites with Salt-Free Seasoning
Jan 20 2022
Salt Free, Flavor Full!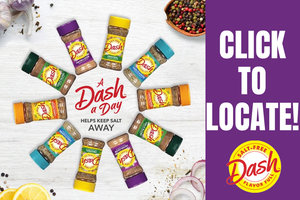 Big on flavor, without a dash of salt—the salt-free seasonings from Dash™ are an ideal way to make your healthy food taste DELICIOUS without extra sodium. They're SO much more than just spices combined: Most Dash Seasoning Blends have a pop of citrus that heightens the flavor… You'll NEVER miss the salt. Stock your pantry with their top-selling blends:
⭑
Original:
The classic combo that never goes out of style. Keep it in your pantry for an anytime flavor boost.
⭑
Garlic & Herb:
It's wild how much flavor they pack into a single jar! Chicken's not the same without a dash or two of this.
⭑
Onion & Herb:
Another beloved duo, sans salt! We love it on chicken and added to soups.
⭑
Table Blend:
A genius formula of 20+ spices. It's basically a go-to salt replacement!
⭑
Lemon Pepper:
A zesty blend of spices that's especially delicious on fish and veggies.
⭑
Everything But The Salt:
The perfect mix of dried garlic, dried onion, sesame seeds, and poppyseeds. The best!
CLICK TO LOCATE!
Prefer to shop online? Find 'em on
Amazon
!
Hungry Girl's Stuffed Everything Bagel Bites
1/2 of recipe: 169 calories, 3g total fat (1.5g sat. fat), 448mg sodium, 27g carbs, 0.5g fiber, 3g sugars, 9.5g protein

Click for WW Points® value*
Pair these poppable bagel bites with fruit or yogurt for a full-on morning meal… or enjoy them as a snack!

Click to see how it's made!
Prep: 10 minutes
Cook: 10 minutes
Ingredients:
2 tbsp. light/reduced-fat cream cheese
1 tbsp. Dash Everything But the Salt Seasoning Blend, divided
1/2 cup self-rising flour
1/2 cup fat-free plain Greek yogurt
Directions:
In a small bowl, mix cream cheese with 1/2 tsp. Dash Everything But the Salt Seasoning Blend.

In a large bowl, combine flour and yogurt. Mix until dough forms.

Shape dough into 8 balls, about 2 tablespoons each. Press an indentation into each dough ball, and fill with cream cheese, about 3/4 teaspoon each. Seal dough around filling.

Top with remaining 2 1/2 tsp. Dash Everything But the Salt Seasoning Blend, and press to adhere.

Spray an air fryer with nonstick spray. Place bagel bites in the air fryer, and spray them with nonstick spray.

Set air fryer to 360ºF. Cook until golden brown and cooked through, 8–10 minutes.
MAKES 2 SERVINGS
Oven Alternative: Bake at 350ºF until golden brown, 13–15 minutes.
Hungry for More Low-Sodium Recipes?
From
Everything But the Salt Turkey Burgers
to
Cauliflower Mac & Cheese
, salt-free never tasted so good! The Dash website is PACKED with healthy & delicious recipes you'll flip over. Savory
soups
, crazy-good
casseroles
, tasty
dressings & dips
, and so much more…
CLICK FOR RECIPES!
For the very latest from the Dash kitchen—including new healthy creations from our pal Joy Bauer—follow them on
Facebook
and
Instagram
!
Ramp Up the Flavor Without the Salt!
Click here to locate
Dash near you, or
start one-clicking on Amazon
.
FYI: We may receive affiliate compensation from some of these links.


Tell your pals! Click "Send to a Friend" now.
We may receive affiliate compensation from some of these links. Prices and availability are subject to change.

We may have received free samples of food, which in no way influences whether these products are reviewed favorably, unfavorably, mentioned with indifference, or mentioned at all. Click for more about our editorial and advertising policies.
*The WW Points® values for these products and/or recipes were calculated by Hungry Girl and are not an endorsement or approval of the product, recipe or its manufacturer or developer by WW International, Inc., the owner of the Points® trademark.

Questions on the WW Points® values listed? Click here.

Hungry Girl provides general information about food and lifestyle. This information and any linked materials are not intended and should not be construed as medical advice, nor is the information a substitute for professional medical expertise or treatment. Click here for more information.