Healthy Father's Day Recipes: Mashie-Topped BBQ Meatloaf, Sriracha Teriyaki Wings
>
>

Healthy Father's Day Recipes: Mashie-Topped BBQ Meatloaf, Sriracha Teriyaki Wings
Jun 16 2016
You wanna treat the dad in your life to a tasty and hearty meal... but you also want it to be on the better-for-you side. Good news: These dude-food dishes are secretly healthy!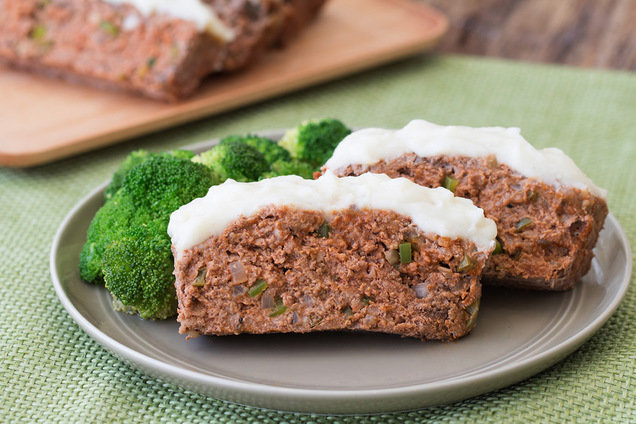 Mashie-Topped BBQ Meatloaf
1/5th of meatloaf (2 slices, about 3/4 inch thick): 234 calories, 5.5g total fat (2.5g sat fat), 515mg sodium, 21.5g carbs, 3g fiber, 8.5g sugars, 23g protein

Green Plan SmartPoints® value 5*
Blue Plan (Freestyle™) SmartPoints® value 5*
Purple Plan SmartPoints® value 5*
Dad will never guess there's cauliflower in those mashed potatoes... Never!
Prep: 25 minutes
Cook: 50 minutes
Ingredients:
Meatloaf
1 lb. extra-lean ground beef (4% fat or less)
3/4 cup finely chopped onion
3/4 cup finely chopped green bell pepper
1/4 cup whole-wheat panko breadcrumbs
1/4 cup (about 2 large) egg whites or fat-free liquid egg substitute
1/4 tsp. garlic powder
1/4 tsp. onion powder
1/4 tsp. each salt and black pepper
2 tbsp. chopped fresh cilantro
1/4 cup + 2 tbsp. BBQ sauce with 45 calories or less per 2-tbsp. serving
Mashies
3 cups cauliflower florets (about 1/2 medium head of cauliflower)
5 oz. russet potato (about half of a medium potato), peeled and cubed
2 tbsp. light sour cream
1 tbsp. light whipped butter or light buttery spread
1/4 tsp. garlic powder
1/4 tsp. onion powder
1/8 tsp. salt
Dash black pepper
Directions:
Preheat oven to 400 degrees. Spray a 9" X 5" loaf pan with nonstick spray.

In a large bowl, combine all meatloaf ingredients except BBQ sauce. Add 1/4 cup BBQ sauce, and mix thoroughly.

Transfer mixture to the loaf pan, and smooth out the top. Evenly top with remaining 2 tbsp. BBQ sauce.

Bake until cooked through, about 50 minutes.

Meanwhile, bring a medium pot of water to a boil. Add cauliflower and potato. Once returned to a boil, reduce heat to medium. Cook until very tender, 15 - 20 minutes.

Drain and transfer cauliflower and potato to a medium bowl. Add remaining mashie ingredients. Thoroughly mash and mix.

Carefully transfer meatloaf to a large plate, draining any excess liquid.

Evenly top with mashies, and smooth out the top.

MAKES 5 SERVINGS
Sriracha Teriyaki Wings
1/6th of recipe (about 3 pieces): 234 calories, 13.5g total fat (3.5g sat fat), 837mg sodium, 8.5g carbs, 0g fiber, 5.5g sugars, 18.5g protein

Green Plan SmartPoints® value 7*
Blue Plan (Freestyle™) SmartPoints® value 7*
Purple Plan SmartPoints® value 7*
Chicken wings don't have to be deep fried to be delicious! This spiced-up Asian spin is grilled to perfection...
Prep: 15 minutes, plus 1 hour to marinate
Cook: 15 minutes
Ingredients:
1/2 cup thick teriyaki sauce or marinade
2 tbsp. sriracha hot chili sauce
2 tsp. reduced-sodium/lite soy sauce
9 chicken wings, tips removed, drumettes and flats separated (see tips below)
1 tsp. sesame seeds
1/2 tsp. chopped garlic
2 tbsp. chopped scallions
Directions:
In a medium bowl, combine teriyaki sauce, sriracha sauce, and soy sauce. Mix well. Place chicken in a large sealable container or bag. Add half of the sauce mixture, coat well, and seal. Cover and refrigerate for 1 hour.

Add sesame seeds and garlic to the remaining sauce mixture, and stir well. Transfer half of this mixture to a second bowl, and reserve for tossing the cooked wings.

Bring a grill sprayed with nonstick spray to medium heat. Grill wings for 5 minutes with the grill cover down. (Discard excess marinade.)

Brush the tops of the wings with half of the sauce in the first bowl. Flip wings, and brush the other sides with remaining sauce in the first bowl. With the grill cover down, cook 5 - 7 minutes, or until chicken is cooked through and slightly blackened.

Place wings in a large bowl. Add sauce from the second bowl, and toss to coat.

Top with scallions.
MAKES 6 SERVINGS
HG Tips: To remove the tips, pull them apart from the flats, making a "V" shape; then cut directly into the center of the "V." To separate the wings, pull them apart so the tendon separates, and cut parallel to the drumette right at the tendon. When in doubt, ask the butcher to separate them for you.
Hungry for More Guy-Friendly Recipes?
Click "Send to a Friend" to share these recipes; hungry dads everywhere will thank you!
We may have received free samples of food, which in no way influences whether these products are reviewed favorably, unfavorably, mentioned with indifference, or mentioned at all. Click for more about our editorial and advertising policies.
SmartPoints® value* not what you expected? We follow the same method as WW (formerly known as Weight Watchers) when calculating the value of a recipe: We add up the SmartPoints® values* of the individual ingredients using the Recipe Builder, not the calculator. (Many foods have a value of zero and remain zero in recipes.)

*The SmartPoints® values for these products and/or recipes were calculated by Hungry Girl and are not an endorsement or approval of the product, recipe or its manufacturer or developer by WW International, Inc., the owner of the SmartPoints® trademark.

Hungry Girl provides general information about food and lifestyle. This information and any linked materials are not intended and should not be construed as medical advice, nor is the information a substitute for professional medical expertise or treatment. Click here for more information.