Healthy Dinner Recipes in 30 Minutes or Less: Chicken Teriyaki Stir Fry, Shrimp & Veggies Foil Pack
>
>

Healthy Dinner Recipes in 30 Minutes or Less: Chicken Teriyaki Stir Fry, Shrimp & Veggies Foil Pack
Feb 16 2017
A healthy, home-cooked meal doesn't have to take forever to make! Here are two great options that'll get you fed in 30 minutes or less...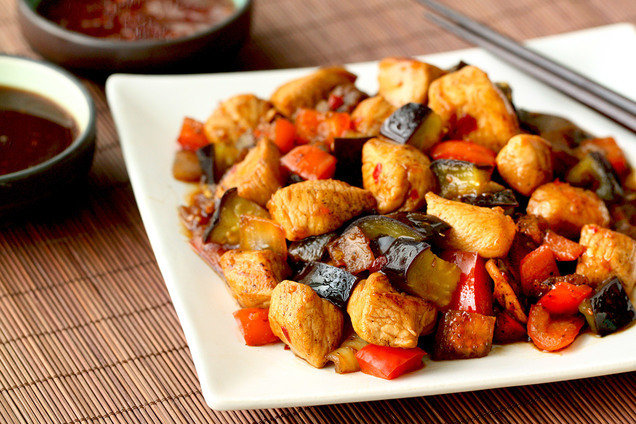 Chicken & Eggplant Teriyaki Stir-Fry
1/2 of recipe (about 1 1/3 cups): 297 calories, 4g total fat (1g sat fat), 764mg sodium, 28.5g carbs, 5.5g fiber, 17.5g sugars, 34g protein

Freestyle™ SmartPoints® value 2*

SmartPoints® value 5*
Words cannot capture the deliciousness of this dish. So flavorful, so satisfying... A must-try, for sure!
Prep: 10 minutes
Cook: 15 minutes
Ingredients:
3 tbsp. thick teriyaki marinade or sauce
2 tsp. sweet Asian chili sauce
2 cups (about 1 medium) chopped eggplant
1 cup chopped red bell pepper
1 cup chopped onion
1/2 tsp. garlic powder
1/2 tsp. onion powder
10 oz. raw boneless skinless chicken breast, cut into bite-sized pieces
Directions:
To make the sauce, in a small bowl, thoroughly mix teriyaki sauce/marinade with chili sauce.

Bring a wok (or extra large skillet) sprayed with nonstick spray to medium-high heat. Cook and stir eggplant for 3 minutes.

Add pepper and onion to the skillet, and sprinkle with 1/4 tsp. garlic powder and 1/4 tsp. onion powder. Cook and stir until veggies have slightly softened and lightly browned, about 5 minutes.

Add chicken pieces, and sprinkle with remaining 1/4 tsp. garlic powder and remaining 1/4 tsp. onion powder. Cook and stir for about 5 minutes, until chicken is cooked through and veggies are soft.

Reduce heat to low. Add sauce, and stir to coat.
MAKES 2 SERVINGS
Mediterranean Shrimp & Veggies
1/2 of recipe (about 1 1/4 cups): 204 calories, 6g total fat (1g sat fat), 515mg sodium, 13.5g carbs, 2.5g fiber, 4g sugars, 23.5g protein

Freestyle™ SmartPoints® value 2*

SmartPoints® value 4*
Three cheers for foil packs! Easy to make and even easier to clean up. The lemon and garlic are insanely tasty here. And why don't we eat corn with tomatoes more often?
Prep: 10 minutes
Cook: 20 minutes
Ingredients:
2 cups roughly chopped spinach
1 cup halved cherry tomatoes
1/2 cup frozen sweet corn kernels
1/4 tsp. dried oregano
1/4 tsp. onion powder
1 tbsp. lemon juice
2 tsp. olive oil
1/2 tsp. chopped garlic
1/8 tsp. each salt and black pepper
8 oz. (about 16) raw large shrimp, peeled, tails removed, deveined
Directions:
Preheat oven to 375 degrees. Lay a large piece of heavy-duty foil on a baking sheet, and spray with nonstick spray.

Place spinach, tomatoes, and corn on the center of the foil. Sprinkle with oregano and onion powder.

In a medium bowl, combine lemon juice, oil, chopped garlic, salt, and pepper. Whisk until uniform. Add shrimp, and toss to coat. Place over veggies.

Cover with another large piece of foil. Fold together and seal all four edges of the foil pieces, forming a well-sealed packet.

Bake for 20 minutes, or until shrimp have cooked through and veggies have softened.

Cut packet to release steam before open entirely.
MAKES 2 SERVINGS
Hungry for More Half-Hour-Max Meals?
Help your pals get dinner on the table ASAP! Click "Send to a Friend" now.
We may have received free samples of food, which in no way influences whether these products are reviewed favorably, unfavorably, mentioned with indifference, or mentioned at all. Click for more about our editorial and advertising policies.
SmartPoints® value* not what you expected? We follow the same method as WW (formerly known as Weight Watchers) when calculating the value of a recipe: We add up the SmartPoints® values* of the individual ingredients using the Recipe Builder, not the calculator. (Many foods have a value of zero and remain zero in recipes.)

*The SmartPoints® values for these products and/or recipes were calculated by Hungry Girl and are not an endorsement or approval of the product, recipe or its manufacturer or developer by WW International, Inc., the owner of the SmartPoints® trademark.