The Easiest Way to Walk More Steps: Hit 10,000 Steps at Home by Housewalking
>
>

The Easiest Way to Walk More Steps: Hit 10,000 Steps at Home by Housewalking
Jun 1 2022

Hi Lisa,
I always try to log 10,000 steps on my Fitbit, but it's a struggle. How in the world do you get so many steps a day?!
Thanks,
Brenda B. Walkin
Hi BB Walkin!
Getting those steps in is crucial for me. I always feel better when I do. While it can be hard to get motivated for something that requires me to change clothes, go to a gym, get sweaty, shower after, etc., I can pretty much always get myself to walk a lot. And my secret is reeeeally simple…
I call it Housewalking!
Basically, any time I'm at home, I do most activities walking around. Talking on the phone? I'm walking. Watching
Dateline
? I'm walking. If I have time to head outside for a proper walk, I'll do that—it really is a great way to start the day—but even indoors, I keep moving. (No house required. Feel free to walk around your apartment, office, or any available space!)
Pop-up fact:
The 10,000-step benchmark came about back in the '60s because of a Japanese pedometer called
Manpo-kei
. The name translates to "10,000 steps meter." So, while it's not some magical must-hit number chosen by fitness pros, it's a helpful and easy-to-remember target!
Get Started in 3, 2, 1!
Track your steps.
It's never been easier. Many smartphones have health-tracking apps that log the steps you take—all you need to do is make sure your phone is on you to get the credit. Fitness trackers and smart watches are also good options. There are all sorts out there, from schmancy high-tech models to super-affordable basic options.
Click to shop
!
Set a goal.
Check out your baseline step amount and push yourself a little farther. If 10,000 sounds doable for you, go for it. If your standard step count is on the lower side (a common pitfall of desk jobs), don't sweat it. See if you can increase your count by 500 steps a day. In a couple weeks, you'll hit that 10,000 mark!
Just start walking.
Are there things you tend to be stationary for that you know you could do while walking? Try it! Here are some ideas to get you started… 
* Talking on the phone
* Waiting for dinner to finish cooking
* Brushing your teeth
* Waiting for the commercial break to end
* Texting
* Checking email on your phone
* Watching videos on your phone
* Listening to an audiobook or podcast
* Waiting for your nails to dry
* Listening to music (dance breaks encouraged)
* Scrolling Facebook or Instagram
* Reading your Hungry Girl daily emails :)
Bonus Amazon Find!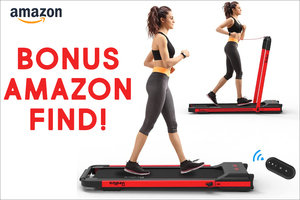 REDLIRO Under Desk Treadmill
If you'd rather walk in one place than around your home, a slim treadmill like this is an excellent investment! It's lightweight and easy to move, so you can easily slide it out when you're ready to binge-watch a TV show in your living room, and then stash it away when you're done. You can even pair it with
a standing desk like this
, if you really want to up your work-from-home game. We're getting motivated just thinking about it…
CLICK TO SHOP!
Get going and walk it off!
Chew on this:
Happy first day of June! Apparently, today is Flip a Coin Day. So, if you can't decide whether you want to have tacos for breakfast or tacos for dinner, flip a coin! (Or just have both.)
Housewalking is a totally share-worthy life hack… Pass it on!
Send it in! She answers new Qs each week (but cannot respond to emails personally).
We may receive affiliate compensation from some of these links. Prices and availability are subject to change.

We may have received free samples of food, which in no way influences whether these products are reviewed favorably, unfavorably, mentioned with indifference, or mentioned at all. Click for more about our editorial and advertising policies.
*The WW Points® values for these products and/or recipes were calculated by Hungry Girl and are not an endorsement or approval of the product, recipe or its manufacturer or developer by WW International, Inc., the owner of the Points® trademark.

Questions on the WW Points® values listed? Click here.

Hungry Girl provides general information about food and lifestyle. This information and any linked materials are not intended and should not be construed as medical advice, nor is the information a substitute for professional medical expertise or treatment. Click here for more information.