Healthy Amazon Food Finds & Deals: Plant-Based Protein Powder, Flavored Microwave Popcorn, Nut-Butter Snack Bites
>
>

Healthy Amazon Food Finds & Deals: Plant-Based Protein Powder, Flavored Microwave Popcorn, Nut-Butter Snack Bites
May 18 2023
Are you ready for Hungry Girl's Snacks & Hacks One-Stop Shopping Show? We are! Lisa's back at 5pm PT/8pm ET tonight (Thursday, 5/18) with great deals on healthy & delicious food finds… Take a sneak peek at what's coming, and visit hungry-girl.com/amazonlive to watch the show later this evening: taste tests, trivia, giveaways, and more!
HG Tip:
Our featured finds often sell out, so act fast!
Power Up with Tasty Protein: Zero Sugar, Naturally Sweetened!
Whether you're a longtime protein-powder user or new to the game, this DELICIOUS lineup deserves your immediate attention! Getting enough protein is crucial for energy & satiety, and Vega Original Protein is an easy, convenient, and affordable way to boost your intake. In
Creamy Vanilla
(perfectly sweet) and
Creamy Chocolate
(decadent to the max), each serving has 25g protein and 3g fiber. And unlike some powders, Vega protein powder mixes up rich and creamy—no gritty texture, no clumps, no chalky taste. You don't even need a blender: It's great shaken with water and ice! Bonus: The already budget-friendly price point is even better with this special offer…
Gourmet Microwave Popcorn in Crazy-Good Flavors!
For fresh and flavored-up popcorn at home, it's all about Opopop! This is THE WAY to make freshly popped microwave popcorn with real gourmet taste. The big difference comes down to the flavor-wrapped kernels. That's right—they individually wrap each kernel in flavor, perfectly seasoning your snack as it pops and making for some seriously good popcorn. Dig into
Maui Heat
,
Cinnalicious
,
Fancy Butter
, and more! Just 140 calories per delicious serving. The sunshine yellow 
collapsible popping bowl
(included in all the Discovery Kits) is a MUST for perfectly popped corn. TOP RECOMMENDATION: Try a slew of flavors AND score the special bowl with the
Flavor Wrapped Kernel Discovery Kit
! Also check out the
Pop Cups Discovery Kit
for smaller popcorn batches. P.S. Opopop makes a great gift.
Prefer to shop on Amazon?
Click here
for the Pop Cups Discovery Kit!
Healthy Snack Bites in Portion-Controlled Packs!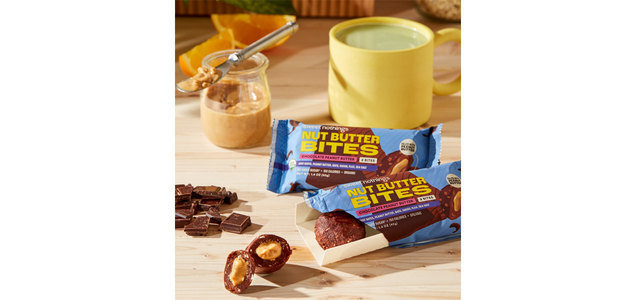 Hot product alert! Last time we featured these naturally sweetened Nut Butter Bites, several flavors sold out IMMEDIATELY. We're not surprised! These delicious snacks are filled with tasty nut butter and feature a soft & satisfying texture, clean ingredients (including dates, fruit, and oats), and no added sugar or sugar alternatives. The 2-piece packs are a convenient alternative to traditional bars. Each serving has 150 calories or less, plus 4–5g plant protein. Chocolate Peanut Butter is the HG favorite:
Click here to see all the flavors
! Top tip: Order
the 4-Flavor Variety Pack
to try them all—or go for a
12 pack
to take advantage of this great offer—but act fast before they sell out…
Hungry for More?
Do you
follow Hungry Girl on Amazon
? Do it! And turn on your notifications in your Amazon app—that way your smartphone alerts you when Lisa goes live, like she will today at 5pm PT/8pm ET! (After tonight's show, the next one will be on June 15th, so make a note.) For a quick-click list of everything Lisa's featured on the show…
Chew on this:
May is National Hamburger Month, and we're guessing you've never had burgers like these before. (Spoiler: They're on a stick!)
Help your friends save cash and eat tasty, healthy food! Send them this info now.
We may receive affiliate compensation from some of these links. Prices and availability are subject to change.

We may have received free samples of food, which in no way influences whether these products are reviewed favorably, unfavorably, mentioned with indifference, or mentioned at all. Click for more about our editorial and advertising policies.
*The WW Points® values for these products and/or recipes were calculated by Hungry Girl and are not an endorsement or approval of the product, recipe or its manufacturer or developer by WW International, Inc., the owner of the Points® trademark.

Questions on the WW Points® values listed? Click here.

Hungry Girl provides general information about food and lifestyle. This information and any linked materials are not intended and should not be construed as medical advice, nor is the information a substitute for professional medical expertise or treatment. Click here for more information.