Gluten-Free Vegetarian Sandwiches, Microwavable Soup with Protein, New Babybel Cheese Snack | Hungry Girl
>
>

Gluten-Free Vegetarian Sandwiches, Microwavable Soup with Protein, New Babybel Cheese Snack | Hungry Girl
Mar 6 2023
Spotted on Shelves…
1 piece: 180–290 calories, 6­–16g total fat (1–7g sat. fat), 150–500mg sodium, 20­–­29g carbs, 1–6g fiber, 1–3g total sugars (0g added sugars), 4–9g protein
WW Points® value 5–11*
Major freezer-aisle find: These are gluten-free & plant-based sandwich pockets, created by chef Ming Tsai! They're stuffed with superfood ingredients, making them a seriously tasty way to eat your veggies. In
Original
,
Buffalo Cauliflower
,
Fiesta
,
Cheeseburger
, and
Sausage & Peppers
, each bing makes a great snack, mini meal, or side dish.
Click to locate
them near you, or just
order them online
. P.S. There's also a line of
Breakfast Bings
, made with Just Egg (a vegan alternative to eggs)!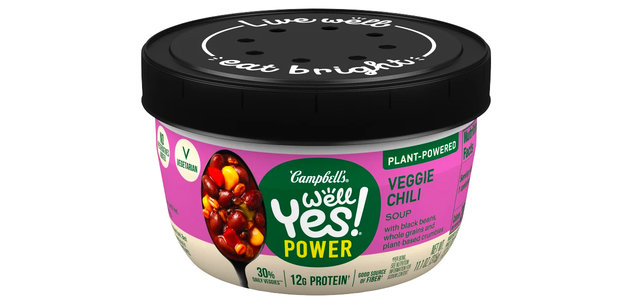 11.1-oz. container: 170–210 calories, 1.5–2.5g total fat (0–0.5g sat. fat), 600mg sodium, 25–38g carbs, 6–9g fiber, 3–7g total sugars (0–1g added sugars), 10–12g protein
WW Points® value 3–4*
Want some soup in speedy fashion that'll satisfy your hunger? Well, YES! Stock your pantry with these shelf-stable microwavable bowls—perfect when you need something fast, healthy, and wholesome. We've tried the
Veggie Chili
and
Southwest Style Chicken
varieties (two yums up!), and we can't wait to taste the
Spiced Chickpea
and
Cajun Style Chicken
versions. Find them at supermarkets & Target locations nationwide.
1 piece: 70 calories, 5g total fat (3.5g sat. fat), 135mg sodium, 0g carbs, 0g fiber, 0g total sugars (0g added sugars), 4g protein
WW Points® value 3*
For the first time in nine years, Babybel has added a new flavor to their snack-cheese lineup. Introducing... Monterey Jack! Featuring the classic Babybel mild creaminess with a slight sweetness, this is a great new option to add to your usual cheese rotation. (You
do
have a cheese rotation, no?) Now available at major retailers nationwide including Albertsons, Hy-Vee, and Walmart. In other Babybel news, the Mozzarella variety was recently reformulated to be even creamier! (And it now has 70 calories instead of 50.)
And that's all we've got. 'Til next time… Chew the right thing!


Chew on this:
It's National Frozen Food Day, March 6th! Click here for healthy freezer-aisle staples we highly recommend.
Tell your friends all about these tasty new food finds!
We may receive affiliate compensation from some of these links. Prices and availability are subject to change.

We may have received free samples of food, which in no way influences whether these products are reviewed favorably, unfavorably, mentioned with indifference, or mentioned at all. Click for more about our editorial and advertising policies.
*The WW Points® values for these products and/or recipes were calculated by Hungry Girl and are not an endorsement or approval of the product, recipe or its manufacturer or developer by WW International, Inc., the owner of the Points® trademark.

Questions on the WW Points® values listed? Click here.

Hungry Girl provides general information about food and lifestyle. This information and any linked materials are not intended and should not be construed as medical advice, nor is the information a substitute for professional medical expertise or treatment. Click here for more information.