Hungry Girl Simply Comfort Cookbook Preorder Special
>
>

Hungry Girl Simply Comfort Cookbook Preorder Special
Sep 7 2022
New Hungry Girl Cookbook: Now Available for Preorder!
Hungry Girl Simply Comfort: Feel-Good Favorites for Your Slow Cooker & Air Fryer
An all-new Hungry Girl cookbook is (almost) here!
Simply Comfort
is PACKED with 200 recipes for healthy comfort food made in an air fryer or slow cooker—it even includes everything you need to know to make the recipes in your oven! Get ready for…
⭑ satisfying make-ahead breakfasts
⭑ classic casseroles & childhood favorites
⭑ meatloaves & mashed potatoes
⭑ indulgent cakes, pies & cobblers
… and so much more!
PREORDER NOW (SAVE YOUR ORDER CONFIRMATION)!
Once you've preordered the book, enter the amazing promotion below!
(Simply preordering the book does NOT make you eligible.)
Enter the Preorder Promo for $90 in Freebies (While Supplies Last)!
Hungry Girl Simply Comfort Preorder Giveaway!
Preorder a copy of
Hungry Girl Simply Comfort
from your favorite retailer. Then enter the official
Hungry Girl Simply Comfort Preorder Giveaway
. Act fast! Only the first 1,500 valid submissions will qualify to receive...
⭑ 1 set of (the highly coveted) Hungry Girl measuring spoons
⭑ 1 bag of Real Food From The Ground Up Cauliflower Cheddar Stalks
⭑ 1 container of PB2 Chocolate Chip Brownie Mix
⭑ 1 coupon for a FREE bag of Daily Crunch Snacks (plus a sample pouch)
⭑ 1 coupon for $20 in FREE PRODUCTS from ChocZero.com
⭑ 1 coupon for a FREE jar of Zoup! broth
⭑ 1 coupon for 2 FREE jars of BakeGood Pie Filling
⭑ 1 coupon for a FREE product from Mooala
⭑ 1 coupon for a FREE product from Swerve
… a $90 value! Remember: You MUST enter the official promotion to be eligible. (Simply preordering the cookbook will NOT make you eligible.)
CLICK TO ENTER!
While supplies last. Official Rules apply.
More Reasons to Preorder the New Cookbook!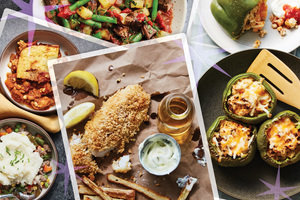 Love decadent comfort food without the excess calories and unhealthy ingredients? Prepare to fall in love with this wildly user-friendly collection of 200 recipes. You'll find exactly what you need:
⭑ 70+ recipes with 5 ingredients or less
⭑ 85+ recipes in 30 minutes or less
⭑ 70+ vegetarian recipes
⭑ 90+ gluten-free recipes
No air fryer or slow cooker? This book includes tips to make every recipe in a traditional oven instead!
Chew on this:
Are you ready for fall? Well, today (September 7th) is National Acorn Squash Day, and enjoying this Chili-Stuffed Acorn Squash is an excellent way to prepare.
Tell your pals about this promo ASAP, so they can get free stuff too!
We may receive affiliate compensation from some of these links. Prices and availability are subject to change.

We may have received free samples of food, which in no way influences whether these products are reviewed favorably, unfavorably, mentioned with indifference, or mentioned at all. Click for more about our editorial and advertising policies.
*The WW Points® values for these products and/or recipes were calculated by Hungry Girl and are not an endorsement or approval of the product, recipe or its manufacturer or developer by WW International, Inc., the owner of the Points® trademark.

Questions on the WW Points® values listed? Click here.

Hungry Girl provides general information about food and lifestyle. This information and any linked materials are not intended and should not be construed as medical advice, nor is the information a substitute for professional medical expertise or treatment. Click here for more information.