Healthy Banana Cream Pie Dip + More Dessert Dip Recipes
>
>

Healthy Banana Cream Pie Dip + More Dessert Dip Recipes
Jul 31 2018
This 5-minute dessert dip is like a deconstructed version of the classic pie... especially when you scoop it up with vanilla wafer cookies! P.S. You can dip fruit in it too; bananas and strawberries play very well together!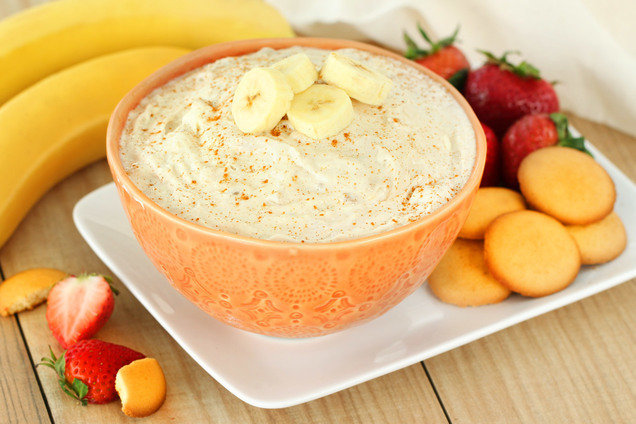 Bananarama Cream Pie Dip
1/8th of recipe (about 1/4 cup): 61 calories, 2.5g total fat (2g sat fat), 53mg sodium, 8.5g carbs, 0.5g fiber, 5g sugars, 2g protein

Blue Plan (Freestyle™) SmartPoints® value 2*
Prep: 5 minutes

Ingredients:
1 cup natural light whipped topping (like the kind by So Delicious or Truwhip)
1/2 cup fat-free plain Greek yogurt
1/2 cup (about 1 medium) mashed extra-ripe banana
3 tbsp. light/reduced-fat cream cheese
1 1/2 packets no-calorie sweetener (like Truvia)
1 tsp. vanilla extract
Dash salt
Optional topping: cinnamon, sliced banana
Directions:
In a medium bowl, combine all ingredients. Mix until smooth and uniform.
MAKES 8 SERVINGS
Amazon Find of the Day: Absolutely Gluten Free TahiniBAR
1 bar: 100 calories, 6g total fat (1g sat fat), 15mg sodium, 9g carbs, 1g fiber, 5 - 6g sugars, 2g protein -- 
SmartPoints
® value 4*
Here's a sweet treat that requires no prep time whatsoever! If you already know and love halva, go ahead and place your orders now. If you're less familiar with the sweet sesame-based confection, prepare to have your mind blown. 
These 100-calorie treats
 are like the mature, world-traveled sibling of the center of a Butterfinger bar -- a little flaky, a lot creamy, and impossibly delicious. Plus, they come in a few varieties, all absurdly enjoyable: Vanilla, Pistachio, and Cocoa Nibs.
Hungry for More Healthy Dessert Dips?
Snack to it! FYI, we may receive compensation from some of these links.


Help your buddies find their go-to summer dessert -- click "Send to a Friend" now!
We may have received free samples of food, which in no way influences whether these products are reviewed favorably, unfavorably, mentioned with indifference, or mentioned at all. Click for more about our editorial and advertising policies.
SmartPoints® value* not what you expected? We follow the same method as WW (formerly known as Weight Watchers) when calculating the value of a recipe: We add up the SmartPoints® values* of the individual ingredients using the Recipe Builder, not the calculator. (Many foods have a value of zero and remain zero in recipes.)

*The SmartPoints® values for these products and/or recipes were calculated by Hungry Girl and are not an endorsement or approval of the product, recipe or its manufacturer or developer by WW International, Inc., the owner of the SmartPoints® trademark.