Healthy Hot Stuff Peach Guacamole Recipe for Cinco de Mayo
>
>

Healthy Hot Stuff Peach Guacamole Recipe for Cinco de Mayo
May 2 2017
We're Hot for Guac!
As much as classic guacamole will never go out of style, it's nice to try a new twist now and then. A spicy version studded with fruit? Don't mind if we do...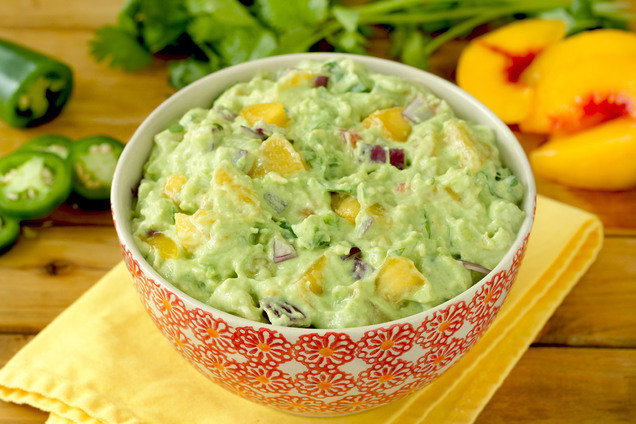 Hot Stuff Peach Guacamole
1/8th of recipe (about 1/3 cup): 67 calories, 4g total fat (0.5g sat. fat), 156mg sodium, 6g carbs, 2.5g fiber, 3g sugars, 2.5g protein

Click for WW Points® value*
Prep: 10 minutes

Ingredients:
8 oz. mashed avocado (about 1 cup or 2 small avocados' worth)
2/3 cup fat-free plain Greek yogurt
1 tsp. lime juice
1/2 tsp. garlic powder
1/2 tsp. salt
1/8 tsp. cayenne pepper
1 cup chopped peaches (fresh or thawed from frozen; no sugar added)
1/4 cup finely chopped red onion
2 tbsp. seeded and finely chopped jalapeño pepper
2 tbsp. chopped fresh cilantro
Directions:
In a medium-large bowl, combine avocado, yogurt, lime juice, and seasonings. Mix until mostly smooth and uniform.

Stir in remaining ingredients.

Cover and refrigerate until ready to serve.
MAKES 8 SERVINGS
Chew on this:
It's National Raisin Week, the first week of May. You know, in case the zingy flavors of Cinco de Mayo aren't your speed... Please enjoy these raisin-embellished recipes!
Click "Send to a Friend" now, and Cinco de Mayo parties everywhere will be dipping in style!
We may receive affiliate compensation from some of these links. Prices and availability are subject to change.

We may have received free samples of food, which in no way influences whether these products are reviewed favorably, unfavorably, mentioned with indifference, or mentioned at all. Click for more about our editorial and advertising policies.
*The WW Points® values for these products and/or recipes were calculated by Hungry Girl and are not an endorsement or approval of the product, recipe or its manufacturer or developer by WW International, Inc., the owner of the Points® trademark.

Questions on the WW Points® values listed? Click here.

Hungry Girl provides general information about food and lifestyle. This information and any linked materials are not intended and should not be construed as medical advice, nor is the information a substitute for professional medical expertise or treatment. Click here for more information.