Chicken Sausage & Garlic Veggies and More 30-Minute Sheet-Pan Dinner Recipes
>
>

Chicken Sausage & Garlic Veggies and More 30-Minute Sheet-Pan Dinner Recipes
Jan 5 2021
What do we want in a weeknight dinner? We want it to cook fast (we're hungry!), be healthy, taste great, and not leave us with a million dishes to clean afterward. This recipe hits all those points... Go for it!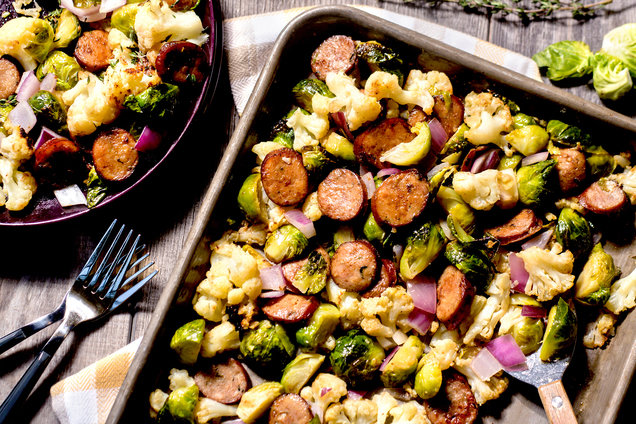 Sheet-Pan Chicken Sausage & Garlic Veggies
1/2 of recipe: 296 calories, 14.5g total fat (3g sat. fat), 830mg sodium, 25.5g carbs, 7g fiber, 8.5g sugars, 20g protein

Click for WW Points® value*
Prep: 10 minutes
Cook: 20 minutes
Ingredients:
1 tbsp. olive oil
1 tbsp. chopped garlic
6 oz. (about 2 links) fully cooked chicken sausage, sliced into coins
2 cups trimmed and halved/quartered Brussels sprouts
2 cups roughly chopped cauliflower
1 cup roughly chopped red onion
1/2 tsp. onion powder
1/4 tsp. ground thyme
1/4 tsp. salt
Directions:
Preheat oven to 425 degrees. Spray a baking sheet with nonstick spray.

In a small bowl, mix oil with garlic.

Place chicken sausage and veggies on the baking sheet. Drizzle with oil mixture, and sprinkle with seasonings. Lightly mix.

Bake until veggies are tender, 16 - 18 minutes, flipping chicken sausage and veggies halfway through.
MAKES 2 SERVINGS
HG Tip: Look for halved Brussels sprouts in the produce aisle!
Hungry for More 30-Minute Sheet-Pan Meals?
FYI: We may receive affiliate compensation from some of these links.


Chew on this:
Today, January 5th, is National Whipped Cream Day. Frozen tubs of light whipped topping are perfect for low-cal dessert recipes, so add 'em to your shopping list!
You know your pals don't know what to make for dinner. Click "Send to a Friend" to help them out.
We may receive affiliate compensation from some of these links. Prices and availability are subject to change.

We may have received free samples of food, which in no way influences whether these products are reviewed favorably, unfavorably, mentioned with indifference, or mentioned at all. Click for more about our editorial and advertising policies.
*The WW Points® values for these products and/or recipes were calculated by Hungry Girl and are not an endorsement or approval of the product, recipe or its manufacturer or developer by WW International, Inc., the owner of the Points® trademark.

Questions on the WW Points® values listed? Click here.

Hungry Girl provides general information about food and lifestyle. This information and any linked materials are not intended and should not be construed as medical advice, nor is the information a substitute for professional medical expertise or treatment. Click here for more information.