Low-Calorie Blended Cocktail Recipe: Cake by the Ocean
>
>

Low-Calorie Blended Cocktail Recipe: Cake by the Ocean
Jul 12 2016
Life's a Beach… Drink It Up!
Blended cocktails served at bars and restaurants are mighty tempting! They taste just like a beach vacation. However, they're typically loaded with sugary calories. Not this one. It tastes like a piña colada's birthday party and has only 166 calories!
Watch how it's made
, and then DIY...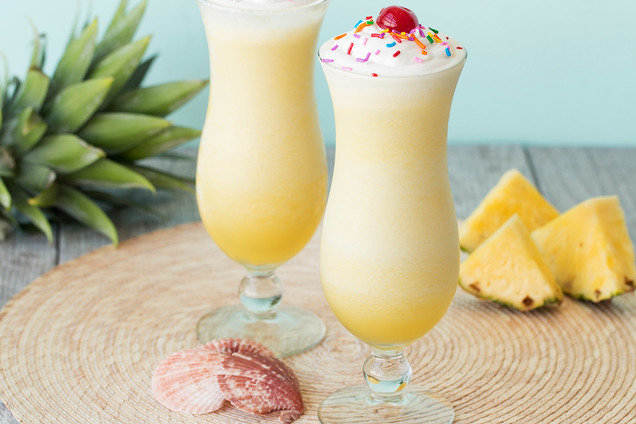 Cake by the Ocean Cocktail
1/2 of recipe (about 16 oz.): 166 calories, 0g total fat (0g sat. fat), 20mg sodium, 17g carbs, 1.5g fiber, 13g sugars, 0.5g protein

Click for WW Points® value*
Prep: 5 minutes

Ingredients:
1 cup frozen pineapple chunks (no sugar added), slightly thawed
6 oz. club soda
2 oz. orange juice
2 oz. whipped-cream-flavored vodka
1 oz. coconut rum
2 no-calorie sweetener packets (like Truvia)
1/4 tsp. vanilla extract
1/8 tsp. almond extract
2 cups crushed ice (about 12 ice cubes)
Optional toppings: natural light whipped topping, maraschino cherries, sprinkles
Directions:
Place all ingredients in a blender. Blend at high speed until smooth, stopping and stirring if needed.
MAKES 2 SERVINGS
Thirsty for More Low-Calorie Cocktails?
Chew on this:
Happy National Pecan Pie Day, July 12th. You're just a few ingredients away from these Crispy Pecan Pie Bites...
Get the party started -- click "Send to a Friend" now!
We may receive affiliate compensation from some of these links. Prices and availability are subject to change.

We may have received free samples of food, which in no way influences whether these products are reviewed favorably, unfavorably, mentioned with indifference, or mentioned at all. Click for more about our editorial and advertising policies.
*The WW Points® values for these products and/or recipes were calculated by Hungry Girl and are not an endorsement or approval of the product, recipe or its manufacturer or developer by WW International, Inc., the owner of the the Points® trademark.

Questions on the WW Points® values listed? Click here.

Hungry Girl provides general information about food and lifestyle. This information and any linked materials are not intended and should not be construed as medical advice, nor is the information a substitute for professional medical expertise or treatment. Click here for more information.