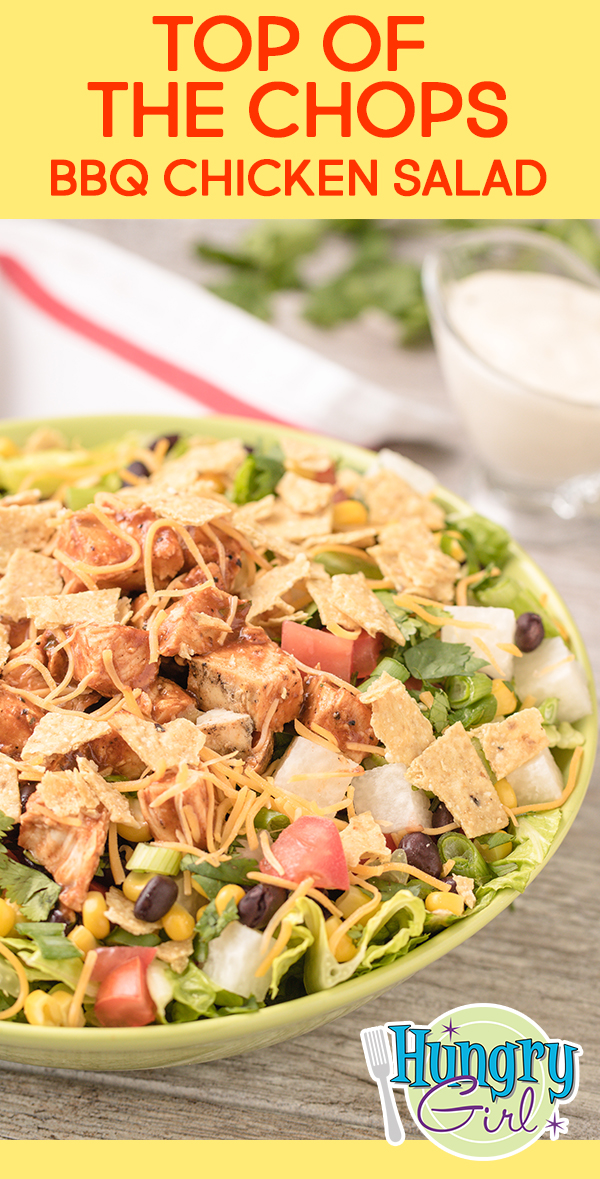 >
>
>

Top of the Chops BBQ Chicken Salad
Top of the Chops BBQ Chicken Salad

Top of the Chops BBQ Chicken Salad

Entire recipe:
389 calories
,
8g total fat
(2.5g sat. fat), 692mg sodium, 43.5g carbs, 10g fiber, 15g sugars, 36.5g protein

Click for WW Points® value*
Entire recipe:
389 calories
, 8g total fat (2.5g sat. fat),
692mg sodium
,
43.5g carbs
,
10g fiber
,
15g sugars
,
36.5g protein
Click for WW Points® value*
Ingredients
4 cups chopped romaine lettuce
1/2 cup chopped tomato
1/4 cup peeled and chopped jicama
3 tbsp. canned black beans, drained and rinsed
3 tbsp. frozen sweet corn kernels, thawed
2 tbsp. chopped scallions
1 tbsp. chopped cilantro
3 oz. cooked and chopped skinless chicken breast
2 tbsp. BBQ sauce with 45 calories or less, or more for topping
2 tbsp. shredded reduced-fat cheddar cheese
5 baked tortilla chips, broken into bite-sized pieces
Serving suggestion: light ranch dressing
Directions
Place lettuce in a large bowl. Top with tomato, jicama, black beans, corn, scallions, and cilantro.

In a small bowl, coat chicken with BBQ sauce. Transfer to the large bowl.

Top salad with cheese and tortilla pieces.
MAKES 1 SERVING
HG FYI: A previous version of this recipe may have called for slightly different ingredients, but we've given it an upgrade! Nutritional info may vary accordingly.
We may receive affiliate compensation from some of these links. Prices and availability are subject to change.

We may have received free samples of food, which in no way influences whether these products are reviewed favorably, unfavorably, mentioned with indifference, or mentioned at all. Click for more about our editorial and advertising policies.
*The WW Points® values for these products and/or recipes were calculated by Hungry Girl and are not an endorsement or approval of the product, recipe or its manufacturer or developer by WW International, Inc., the owner of the Points® trademark.

Questions on the WW Points® values listed? Click here.

Hungry Girl provides general information about food and lifestyle. This information and any linked materials are not intended and should not be construed as medical advice, nor is the information a substitute for professional medical expertise or treatment. Click here for more information.