Healthy Comfort Food Recipes: Coconut-Crusted Chicken Nuggets, Shrimp & Cheesy Oats Bowl
>
>

Healthy Comfort Food Recipes: Coconut-Crusted Chicken Nuggets, Shrimp & Cheesy Oats Bowl
Feb 2 2017
What do you do when you wanna indulge in comfort food but keep things healthy? You make HG comfort food recipes! These recipes will satisfy your cravings, guaranteed.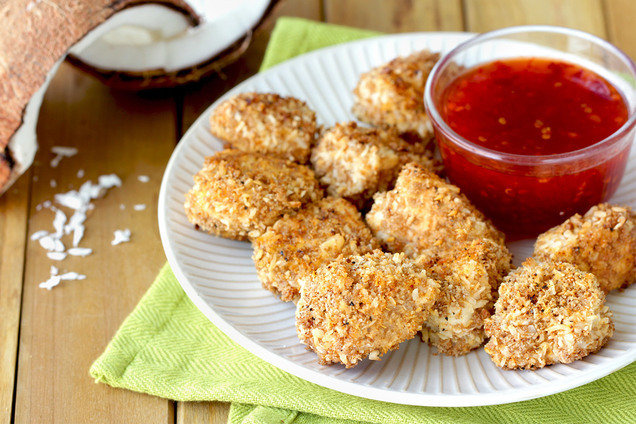 Coconut-Crusted Chicken Nuggets
1/2 of recipe (5 nuggets): 228 calories, 7.5g total fat (4.5g sat. fat), 241mg sodium, 9g carbs, 2g fiber, 1g sugars, 28.5g protein
Why should shrimp get all the fun? Coat chicken with a crispy coconut crust, and let the party begin!
Prep: 15 minutes
Cook: 25 minutes
Ingredients:
2 tbsp. egg whites (about 1 large egg's worth) or fat-free liquid egg substitute
1/8 tsp. coconut extract
1/4 cup whole-wheat panko breadcrumbs
3 tbsp. unsweetened shredded coconut
1 packet no-calorie sweetener (like Truvia)
1/4 tsp. chili powder
1/8 tsp. garlic powder
1/8 tsp. each salt and black pepper
8 oz. raw boneless skinless chicken breast, cut into 10 nuggets
Optional dip: sweet Asian chili sauce
Directions:
Preheat oven to 375 degrees. Spray a baking sheet with nonstick spray.

In a small bowl, mix egg whites/substitute with coconut extract.

In a wide bowl, combine breadcrumbs, shredded coconut, sweetener, and seasonings. Mix well.

Place chicken in another wide bowl. Top with egg mixture, and flip to coat.

One at a time, shake chicken to remove excess egg, and coat with breadcrumb mixture. Evenly place on the baking sheet, and top with any remaining breadcrumbs.

Bake for 10 minutes.

Flip chicken. Bake until slightly browned and crispy, 10 - 12 more minutes.
MAKES 2 SERVINGS
Shrimp & Cheesy Oats Bowl
Entire recipe: 334 calories, 10.5g total fat (4g sat. fat), 687mg sodium, 30.5g carbs, 5g fiber, 1g sugars, 28g protein
Shrimp and grits are a great combo, but you know what shrimp pairs with just as well? Savory steel-cut oats! Delicious and extra nutritious...
Prep: 5 minutes
Cook: 40 minutes
Ingredients:
1/4 cup steel-cut oats
Dash salt
1 slice center-cut bacon or turkey bacon
2 tbsp. shredded reduced-fat cheddar cheese
1 tsp. light whipped butter or light buttery spread
2 tbsp. chopped scallions
3 oz. (about 6) raw large shrimp, peeled, tails removed, deveined
1 tsp. lemon juice
1/8 tsp. garlic powder
1/8 tsp. onion powder
Dash black pepper
Optional seasoning: additional salt
Directions:
In a medium-small pot, bring 1 1/4 cups of water to a boil.

Add oats and salt, and return to boil.

Reduce to a low simmer. Cover and cook for 30 minutes, or until thickened.

Meanwhile, cook bacon until crispy, either in a skillet over medium heat or on a microwave-safe plate in the microwave. (See package for cook time.)

Add cheese, butter, and 1 tbsp. scallions to the pot. Cook and stir until hot and melted, about 1 minute.

Transfer oatmeal to a medium bowl.

Bring a skillet sprayed with nonstick spray to medium heat. Add shrimp, lemon juice, and seasonings. Cook and stir for about 4 minutes, until cooked through.

Add shrimp to the medium bowl. Chop or crumble bacon, and sprinkle over shrimp. Top with remaining 1 tbsp. scallions.
MAKES 1 SERVING
Chew on this:
Happy Groundhog Day, February 2nd! If Punxsutawney Phil predicted more winter, comfort food is what you need. If an early spring is coming, be prepared with these recipes.
Think of how happy your pals will be when they see these recipes! Click "Send to a Friend" now...
We may receive affiliate compensation from some of these links. Prices and availability are subject to change.

We may have received free samples of food, which in no way influences whether these products are reviewed favorably, unfavorably, mentioned with indifference, or mentioned at all. Click for more about our editorial and advertising policies.
*The WW points values for these products and/or recipes were calculated by Hungry Girl and are not an endorsement or approval of the product, recipe or its manufacturer or developer by WW International, Inc., the owner of the SmartPoints® and PersonalPoints™ trademarks.

Questions on the WW points values listed? Click here.

Hungry Girl provides general information about food and lifestyle. This information and any linked materials are not intended and should not be construed as medical advice, nor is the information a substitute for professional medical expertise or treatment. Click here for more information.