Healthy Pasta Swap Recipes: Zucchini Noodles, Spaghetti Squash, and More
>
>

Healthy Pasta Swap Recipes: Zucchini Noodles, Spaghetti Squash, and More
Jan 29 2016
Cutting out starchy pasta is a great way to save calories... but you need to replace those noodles with something! In today's "Small Changes, Big Results," we've got 22 recipes that pack all the noodle-y appeal of your favorite pasta meals, but with much lower carb and calorie counts...




Z'paghetti (a.k.a. Zucchini Noodles)
Zucchini noodles are sooooo good, and these recipes are easier to whip up than you might think! A simple (read: inexpensive) vegetable spiralizer like the
Veggetti
is all you need. You can even get by with a regular veggie peeler, if you like...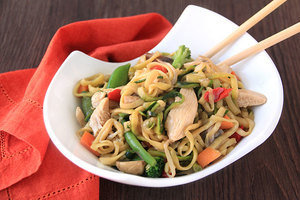 Zucchini So Low Mein with Chicken
1/2 of recipe (about 2 1/4 cups): 277 calories, 6.5g total fat (1g sat. fat), 633mg sodium, 24g carbs, 5.5g fiber, 15.5g sugars, 34g protein --
SmartPoints
® value 4*
This bowl
of perfectly seasoned veggie noodles and protein will obliterate a craving for Chinese food. And unlike regular lo mein -- with its oily, carby ways -- ours won't leave you feeling bogged down.
Tofu Shirataki Noodle Substitute
We've been trading out traditional noodles for this low-calorie swap for years. After all, an entire two-serving bag has just 20 calories! If you're new to the world of tofu shirataki,
click here
to learn more about it; if you're an old pro, keep reading for recipes...
Spaghetti Squash
Turning a big yellow spaghetti squash into a mound of tender noodles is a piece of cake; in fact, we've got
three simple methods to choose from
. Once you've got that part down, you can enjoy those noodles however you like regular spaghetti… Dare we say, we like 'em better than ordinary spaghetti!
Spaghetti Swap & Meatballs
1/2 of recipe (2 cups squash with about 3/4 cup sauce and 3 meatballs): 327 calories, 6g total fat (2g sat. fat), 775mg sodium, 45g carbs, 9g fiber, 19g sugars, 26g protein --
SmartPoints
® value 3*
This is the one...
The recipe
you need to bookmark ASAP, because your family is going to be requesting it over and over again. It's got all the comfort-food goodness of the original, but you can eat a huge plateful without a huge calorie impact. All that fiber and protein will keep you full for
days
... (Okay, maybe not days. But at least until breakfast the next morning!)
Broccoli Cole Slaw
Here's another classic we've been employing in recipes since the early days. Prep here is as minimal as it comes: The broccoli stems are already shredded and ready to be steamed -- in a skillet or, if the packaging says it's OK, right in the bag! Find it in the produce aisle...




Bakes & Casseroles
Pasta bakes are notably delicious, but they're generally loaded with cheese and/or creamy sauce. And calorie-dense pasta + other high-cal ingredients = nutritional disaster. None of that here! These dishes feature the aforementioned swaps in place of the starchy stuff, plus other smart ingredients...




Who doesn't need these recipes? Exactly -- click "Send to a Friend" to pass this recipe goldmine to your pals.
We may receive affiliate compensation from some of these links. Prices and availability are subject to change.

We may have received free samples of food, which in no way influences whether these products are reviewed favorably, unfavorably, mentioned with indifference, or mentioned at all. Click for more about our editorial and advertising policies.
*The WW Points® values for these products and/or recipes were calculated by Hungry Girl and are not an endorsement or approval of the product, recipe or its manufacturer or developer by WW International, Inc., the owner of the Points® trademark.

Questions on the WW Points® values listed? Click here.

Hungry Girl provides general information about food and lifestyle. This information and any linked materials are not intended and should not be construed as medical advice, nor is the information a substitute for professional medical expertise or treatment. Click here for more information.