Healthy Summer Chopped Salad Recipe
>
>

Healthy Summer Chopped Salad Recipe
Aug 22 2023
Summer is salad season, so we chopped all our favorite salad ingredients into one healthy recipe: chicken, beans, corn, beets, Parmesan cheese, and a TON of fresh veggies. This meal-sized salad is so tasty on its own that you might even want to eat it without a dressing… The choice is yours!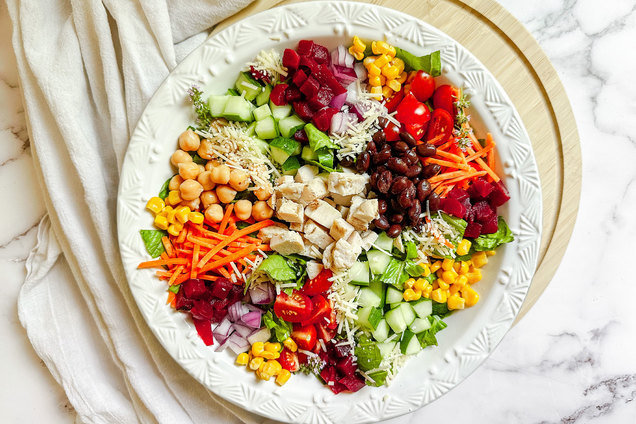 Summer Chopped Salad
Entire recipe: 377 calories, 9.5g total fat (3.5g sat. fat), 630mg sodium, 33.5g carbs, 9.5g fiber, 12.5g sugars, 40g protein

Click for WW Points® value*
Prep: 10 minutes

Ingredients:
3 cups chopped romaine lettuce
1/2 cup chopped cucumber
1/3 cup chopped tomato
3 oz. cooked and chopped skinless chicken breast
1/4 cup chopped red onion
1/4 cup shredded carrots
1/4 cup canned beets, drained and chopped
2 tbsp. canned black beans, drained and rinsed
2 tbsp. canned chickpeas (garbanzo beans), drained and rinsed
2 tbsp. canned sweet corn kernels, drained (or thawed from frozen)
2 tbsp. grated Parmesan cheese
Directions:
Place lettuce in a large bowl. Top with remaining ingredients.
MAKES 1 SERVING
Amazon Must-Have Kitchen Tool!
If you're a major salad head (like many of the Hungry Girl staffers), getting a salad chopper like this can be a game changer. Gone are the days of having to individually chop your salad ingredients into bite-sized pieces! With this dual-bladed mezzaluna, you can do your chopping right in the bowl. (We suggest a sturdy and sizeable bowl,
like this stainless option
.) Skip the cutting board, and put yourself one step closer to all your future salads.
P.S. Scope out all Lisa's top Amazon finds—
click to shop
!
Hungry for More Healthy Entrée Salads?
First, make today's Summer Chopped Salad recipe. Then start planning your next salad…




Send your friends this healthy recipe, so they can enjoy summer chopped salads too!
We may receive affiliate compensation from some of these links. Prices and availability are subject to change.

We may have received free samples of food, which in no way influences whether these products are reviewed favorably, unfavorably, mentioned with indifference, or mentioned at all. Click for more about our editorial and advertising policies.
*The WW Points® values for these products and/or recipes were calculated by Hungry Girl and are not an endorsement or approval of the product, recipe or its manufacturer or developer by WW International, Inc., the owner of the Points® trademark.

Questions on the WW Points® values listed? Click here.

Hungry Girl provides general information about food and lifestyle. This information and any linked materials are not intended and should not be construed as medical advice, nor is the information a substitute for professional medical expertise or treatment. Click here for more information.