Healthy Chocolate Chip Banana Bread Recipe
>
>

Healthy Chocolate Chip Banana Bread Recipe
Oct 13 2015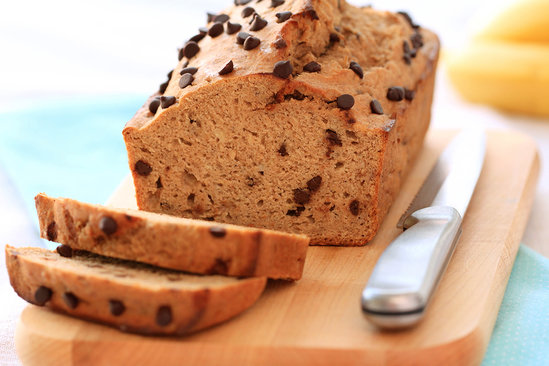 A Very A-Peeling Recipe
We've never met a banana bread we didn't like... but we've also never met one that wasn't packed with butter, sugar, and carby calories. Unless it's one of our own recipes, of course! Whether you're eating our banana bread at breakfast or as a snack, you can enjoy that moist texture and yummy banana flavor without a lick of guilt. We traded excess calories for chocolate chips!
HG's Best-Ever Chocolate Chip Banana Bread
1/10th of recipe (1 slice): 152 calories, 4g total fat (1.5g sat fat), 270mg sodium, 31g carbs, 3.5g fiber, 8g sugars, 4g protein

Green Plan SmartPoints® value 4*
Blue Plan (Freestyle™) SmartPoints® value 4*
Prep: 10 minutes
Cook: 55 minutes
Ingredients:
1 1/2 cups whole-wheat flour
1/4 cup Truvia spoonable natural no-calorie sweetener (or another no-calorie granulated sweetener; see HG FYI)
2 tsp. baking powder
1/2 tsp. salt
1/2 tsp. cinnamon
1 1/2 cups (about 2 large) mashed extra-ripe bananas
1/2 cup egg whites or fat-free liquid egg substitute
1/4 cup unsweetened applesauce
1/4 cup light whipped butter or light buttery spread (like I Can't Believe It's Not Butter! Light or Brummel & Brown)
1 tsp. vanilla extract
1/4 cup mini semi-sweet chocolate chips
Directions:
Preheat oven to 350 degrees. Spray a 9" X 5" loaf pan with nonstick spray.

In a large bowl, combine flour, sweetener, baking powder, salt, and cinnamon. Mix well.

In another large bowl, combine bananas, egg whites, applesauce, butter, and vanilla extract. Whisk until mostly uniform.

Add wet ingredients to the dry ingredients, and mix until uniform. Gently fold in 3 tbsp. chocolate chips.

Transfer batter to the loaf pan, and smooth out the surface. Sprinkle with remaining 1 tbsp. chocolate chips, and lightly press into the batter.

Bake until a toothpick inserted into the center comes out clean, about 55 minutes.
MAKES 10 SERVINGS
HG FYI: Truvia spoonable calorie-free sweetener is about twice as sweet as sugar. If using a no-calorie granulated sweetener that measures cup-for-cup like sugar instead of Truvia, double the amount called for in this recipe.
Chew on this:
Today, October 13th, is the annual "Day for Failure" -- a holiday to embrace our own #fails. Today's recipe is an easy one, but if you mess up, don't worry about it!
Who doesn't go bananas for chocolate chips? Click "Send to a Friend" now to share this recipe!
We may have received free samples of food, which in no way influences whether these products are reviewed favorably, unfavorably, mentioned with indifference, or mentioned at all. Click for more about our editorial and advertising policies.
SmartPoints® value* not what you expected? We follow the same method as WW (formerly known as Weight Watchers) when calculating the value of a recipe: We add up the SmartPoints® values* of the individual ingredients using the Recipe Builder, not the calculator. (Many foods have a value of zero and remain zero in recipes.)

*The SmartPoints® values for these products and/or recipes were calculated by Hungry Girl and are not an endorsement or approval of the product, recipe or its manufacturer or developer by WW International, Inc., the owner of the SmartPoints® trademark.