S'mores Frappuccino Swap with Protein + More Starbucks Recipe Makeovers
>
>

S'mores Frappuccino Swap with Protein + More Starbucks Recipe Makeovers
May 21 2019


We love a good blended coffee drink, but Starbucks Frappuccinos are generally loaded with sugar and calories. So we took inspiration from the S'mores Frappuccino, but cut the sugary calories and doubled the protein. P.S. It's DELICIOUS.


S'mores Protein Swappuccino
Entire recipe (about 16 oz.): 167 calories, 5g total fat (2.5g sat. fat), 163mg sodium, 20.5g carbs, 1g fiber, 10.5g sugars, 10.5g protein

Click for WW Points® value*
Prep: 5 minutes

Ingredients:
2 tsp. instant coffee granules (or 1 Starbucks VIA Instant packet)
1/2 cup unsweetened vanilla almond milk
1 1/2 tbsp. vanilla protein powder with about 100 calories per 1-oz. scoop (like the kind by Quest Nutrition or Tera's Whey)
1 1/2 tbsp. chocolate protein powder with about 100 calories per 1-oz. scoop (like the kind by Quest Nutrition or Tera's Whey)
1 packet natural no-calorie sweetener (like Truvia), or more to taste
1/2 tsp. vanilla extract
1 1/4 cups crushed ice (about 10 ice cubes)
1/4 cup natural light whipped topping (like Skinny Truwhip or So Delicious Dairy Free CocoWhip! Light)
1 tsp. light chocolate syrup
1 graham cracker (1/4 sheet), finely crushed
1 tbsp. mini marshmallows
Directions:
Place coffee granules in a tall glass. Add 1/4 cup hot water, and stir to dissolve.

Add coffee to a blender, along with almond milk, both protein powders, sweetener, vanilla extract, and ice. Blend at high speed until smooth, stopping and stirring if needed.

Transfer half of the blended drink to a tall glass. Top with half of the whipped topping. Layer with remaining drink and whipped topping.

Top with chocolate syrup, crushed graham cracker, and marshmallows.
MAKES 1 SERVING
Protein Powder Tips & Tricks!
⭑ Look for single-serving packets at stores like Whole Foods, GNC, and Vitamin Shoppe!
⭑ If you don't want to buy both vanilla and chocolate protein powder, just omit the vanilla protein powder in this recipe and double the chocolate protein powder. Still awesome!
⭑ Ready to stock up? Amazon has some great deals on
chocolate protein powder
and
vanilla protein powder
. Shop around!
Still Thirsty?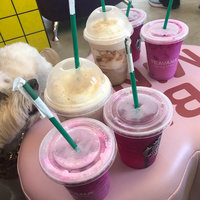 Check out "
The Starbucks Episode
" of the Hungry Girl podcast! Lisa and friends try the new dragonfruit drinks and the S'mores Frappuccino, and Lisa reveals tons of calorie-saving secrets.
Click to listen
… Anytime, anywhere!


FYI: As an Amazon Associate, we may receive compensation from some of these links.


Chew on this:
Mmmm, happy National Strawberries and Cream Day, May 21st! These Personal PB&J Pies are topped with whip and taste soooo good!
Quick, before your pal leaves on their Starbucks run! Click "Send to a Friend" ASAP!
We may receive affiliate compensation from some of these links. Prices and availability are subject to change.

We may have received free samples of food, which in no way influences whether these products are reviewed favorably, unfavorably, mentioned with indifference, or mentioned at all. Click for more about our editorial and advertising policies.
*The WW Points® values for these products and/or recipes were calculated by Hungry Girl and are not an endorsement or approval of the product, recipe or its manufacturer or developer by WW International, Inc., the owner of the the Points® trademark.

Questions on the WW Points® values listed? Click here.

Hungry Girl provides general information about food and lifestyle. This information and any linked materials are not intended and should not be construed as medical advice, nor is the information a substitute for professional medical expertise or treatment. Click here for more information.