Ratatouille Dip + More Healthy Savory Dip Recipes
>
>

Ratatouille Dip + More Healthy Savory Dip Recipes
Apr 18 2019
Sometimes, we put veggies on our veggies! This dip rocks, and it's crazy versatile. Scoop it up with some baby carrots or mini toasts, and try it as a topping for chicken, fish… even eggs! Shoutout to HG fan Rosanne for inspiring this recipe. (Go, Rosanne!)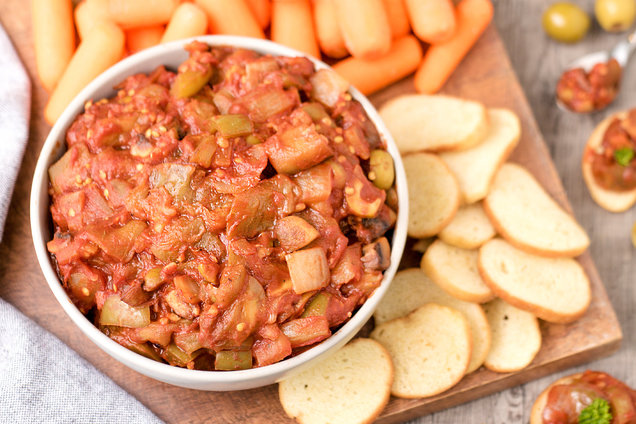 Ratatouille Dip
1/10th of recipe (about 1/3 cup): 50 calories, 2g total fat (<0.5g sat. fat), 166mg sodium, 7.5g carbs, 2g fiber, 3.5g sugars, 1.5g protein

Click for WW Points® value*
Prep: 10 minutes
Cook: 45 minutes
Ingredients:
3 cups (about 1 medium-large) peeled and cubed eggplant
1 cup roughly chopped mushrooms
1 cup chopped onion
1/2 cup chopped green bell pepper
1 tbsp. olive oil
One 6-oz. can tomato paste
1/3 cup chopped green olives
2 tbsp. white wine vinegar
1 tbsp. chopped garlic
1/2 tsp. Italian seasoning
1/2 tsp. salt
Directions:
Bring a large skillet sprayed with nonstick spray to medium heat. Add eggplant, mushrooms, onion, pepper, and oil. Cook and stir until mostly softened, 8 - 10 minutes.

Reduce heat to low. Add all remaining ingredients. Add 1/2 cup water, and stir until uniform.

Cover and cook for 30 minutes, or until veggies have softened, liquid has reduced, and mixture has thickened.

Serve hot, warm, or chilled.
MAKES 10 SERVINGS
Chew on this:
It's National Animal Crackers Day, April 18th! If you're looking for a nostalgic snack pick, check out Annie's Organic Animal Cookies: 8g whole grains and no high-fructose corn syrup.
Friends don't let friends eat boring veggies… Click "Send to a Friend" now!
We may receive affiliate compensation from some of these links. Prices and availability are subject to change.

We may have received free samples of food, which in no way influences whether these products are reviewed favorably, unfavorably, mentioned with indifference, or mentioned at all. Click for more about our editorial and advertising policies.
*The WW Points® values for these products and/or recipes were calculated by Hungry Girl and are not an endorsement or approval of the product, recipe or its manufacturer or developer by WW International, Inc., the owner of the Points® trademark.

Questions on the WW Points® values listed? Click here.

Hungry Girl provides general information about food and lifestyle. This information and any linked materials are not intended and should not be construed as medical advice, nor is the information a substitute for professional medical expertise or treatment. Click here for more information.