Turkey Sausage & Apple Breakfast Meatballs + More Make-Ahead Breakfast Recipes
>
>

Turkey Sausage & Apple Breakfast Meatballs + More Make-Ahead Breakfast Recipes
Dec 17 2020
We love sweet & savory breakfast meats, and this new creation is out of this world! The meatballs are lean but loaded with flavor. We can't wait to roll 'em up in a wrap with some scrambled egg whites. Make a batch now, and devour throughout the week. They may have breakfast in the name, but we wouldn't blame you for snacking on 'em!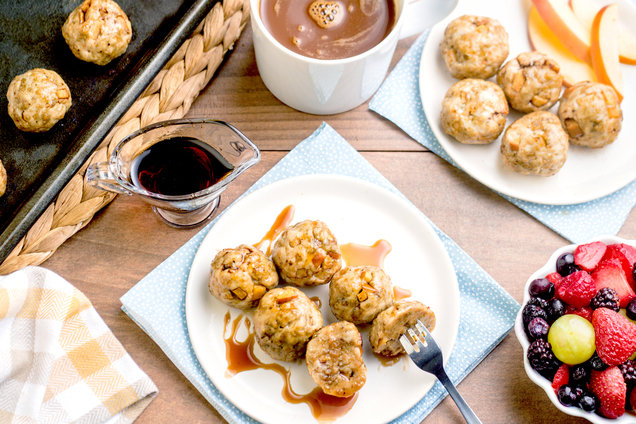 Turkey Sausage & Apple Breakfast Meatballs
1/4th of recipe (5 meatballs): 160 calories, 1.5g total fat (0.5g sat. fat), 379mg sodium, 8.5g carbs, 1g fiber, 2g sugars, 27.5g protein
Prep: 10 minutes
Cook: 15 minutes
Ingredients:
1 lb. raw extra-lean ground turkey (at least 98% lean)
1/2 cup finely chopped apple
1/2 cup panko bread crumbs
1 tsp. ground sage
1 tsp. ground thyme
1/2 tsp. salt
1/4 tsp. black pepper
1/8 tsp. ground nutmeg
Optional dip: lite or sugar-free pancake syrup
Directions:
Preheat oven to 400 degrees. Spray a baking sheet with nonstick spray.

In a large bowl, thoroughly mix all ingredients. Evenly form into 20 meatballs, each about 1 inch in diameter.

Place meatballs on the baking sheet, evenly spaced. Bake until cooked through, 10 - 12 minutes.
MAKES 4 SERVINGS
Freeze & Heat 411: Once cool, place each serving in a freezer-safe sealable container or bag -- seal and store in the freezer. To thaw, remove from container/bag and place on a microwave-safe plate. Microwave on high for 30 seconds, or until meatballs reach your desired temperature. Alternatively, refrigerate overnight to thaw.
Hungry for More Savory Make-Ahead Breakfast Recipes?
Chew on this:
Yummm, it's December 17th, National Maple Syrup Day. Maple fans should definitely give these baked Glazy Maple Donuts a try...
Breakfast for your buddies! Click "Send to a Friend" to share these recipes.
We may receive affiliate compensation from some of these links. Prices and availability are subject to change.

We may have received free samples of food, which in no way influences whether these products are reviewed favorably, unfavorably, mentioned with indifference, or mentioned at all. Click for more about our editorial and advertising policies.
*The WW Points® values for these products and/or recipes were calculated by Hungry Girl and are not an endorsement or approval of the product, recipe or its manufacturer or developer by WW International, Inc., the owner of the Points® trademark.

Questions on the WW Points® values listed? Click here.

Hungry Girl provides general information about food and lifestyle. This information and any linked materials are not intended and should not be construed as medical advice, nor is the information a substitute for professional medical expertise or treatment. Click here for more information.