Tortilla-Crusted Fish + More Healthy 20-Minute Dinner Recipes
>
>

Tortilla-Crusted Fish + More Healthy 20-Minute Dinner Recipes
Oct 13 2020
You've heard of fish & chips? In today's recipe, we coated our fish with chips! Crushed tortilla chips, that is. Add a few more key ingredients, and you've got yourself a zesty & delicious dinner recipe for two…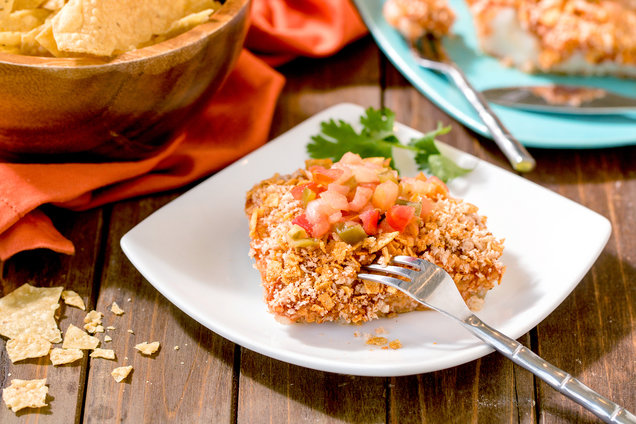 Crispy Crusted Cod
1/2 of recipe: 167 calories, 2g total fat (<0.5g sat. fat), 559mg sodium, 9g carbs, 1g fiber, 0.5g sugars, 26g protein
Prep: 5 minutes
Cook: 15 minutes
Ingredients:
3 tortilla chips, crushed
2 tbsp. panko bread crumbs
1 1/2 tsp. taco seasoning
Two 5-oz. raw cod fillets
1/8 tsp. each salt and black pepper
3 tbsp. taco sauce
Optional toppings: light sour cream, salsa
Directions:
Preheat oven to 400 degrees. Spray a baking pan or baking sheet with nonstick spray.

In a wide bowl, combine chips, panko, and 1 tsp. taco seasoning. Mix well. Season cod with salt, pepper, and remaining 1/2 tsp. taco seasoning. Place on the baking sheet, and top with taco sauce.

Top with panko mixture, and lightly press to adhere. Bake until fish is cooked through and coating is crispy, about 12 minutes.
MAKES 2 SERVINGS
Hungry for More 20-Minute Dinner Recipes?
Give your pals' dinners some extra crunch! Click "Send to a Friend" now.
We may receive affiliate compensation from some of these links. Prices and availability are subject to change.

We may have received free samples of food, which in no way influences whether these products are reviewed favorably, unfavorably, mentioned with indifference, or mentioned at all. Click for more about our editorial and advertising policies.
*The WW Points® values for these products and/or recipes were calculated by Hungry Girl and are not an endorsement or approval of the product, recipe or its manufacturer or developer by WW International, Inc., the owner of the Points® trademark.

Questions on the WW Points® values listed? Click here.

Hungry Girl provides general information about food and lifestyle. This information and any linked materials are not intended and should not be construed as medical advice, nor is the information a substitute for professional medical expertise or treatment. Click here for more information.