Healthy Stuffed Egg White Recipes + The Easiest Ways to Cook Hard-Boiled Eggs
>
>

Healthy Stuffed Egg White Recipes + The Easiest Ways to Cook Hard-Boiled Eggs
Jul 27 2022
Stuffed egg whites are a completely underrated snack! We've been huge fans forever, since hard-boiled egg whites are low in calories & carbs, high in protein, and perfectly shaped to hold delicious fillings. Get the scoop on our best tips, tricks, and recipes…


Amazon Must-Have Kitchen Gadget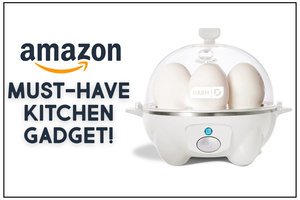 Dash Rapid Egg Cooker
Before we dive into the recipes, we need to talk about this egg cooker. You might've seen it mentioned in HG newsletters or somewhere else online because it is SO POPULAR. And with good reason! You can turn out a half-dozen perfect hard-cooked steamed eggs in minutes, without having to mess with boiling water, draining the eggs, etc. Plus, the cooker shuts off by itself and beeps when it's done cooking. For anyone who tends to set a pot of eggs to boil and then forget about them (which we have absolutely been guilty of) or just doesn't want to fuss a lot, it's an absolute necessity. Best of all, we've found that eggs peel more easily when cooked in this contraption. And it's under $20!
CLICK TO ORDER!
Hard-Boiling Tips & Tricks
Rather cook your eggs the old-fashioned way, on the stovetop?
Click here
for our best tips and tricks. Don't feel like reading? Check out
this how-to video
!
Stuffed Egg White Recipes
Now that you know the best ways to cook your eggs, here are some fun ways to fill 'em up… Perfect for snacking any time of day!


Protein snacks are important! Forward this email or send the link to your pals.
We may receive affiliate compensation from some of these links. Prices and availability are subject to change.

We may have received free samples of food, which in no way influences whether these products are reviewed favorably, unfavorably, mentioned with indifference, or mentioned at all. Click for more about our editorial and advertising policies.
*The WW Points® values for these products and/or recipes were calculated by Hungry Girl and are not an endorsement or approval of the product, recipe or its manufacturer or developer by WW International, Inc., the owner of the Points® trademark.

Questions on the WW Points® values listed? Click here.

Hungry Girl provides general information about food and lifestyle. This information and any linked materials are not intended and should not be construed as medical advice, nor is the information a substitute for professional medical expertise or treatment. Click here for more information.